Inside an Unprecedented Eight Weeks at Binc
In early March, as businesses around the country were closed in increasing numbers to help slow the spread of the coronavirus, the team at the Book Industry Charitable Foundation began to see a rush of booksellers applying for assistance.
Many of the requests were related to housing, specifically being able to afford rent for April, recalled Binc executive director Pam French. By about March 13, it became very clear to her that providing assistance to all of these booksellers in need would require "a response like nothing we've ever done before at the foundation."
After looking at all of the foundation's operations, French and her team were able to scale up their operations very quickly. Based on the early requests they received, they decided to focus primarily on housing costs when it came to Covid-19 relief, followed by food and medication. They also decided to structure their grants into bands. In the past, every Binc grant was customized to fit a bookseller's needs. Due to the sheer volume of requests coming in, they created tiers of $500, $750, $1,000 and $1,500 to streamline the application process.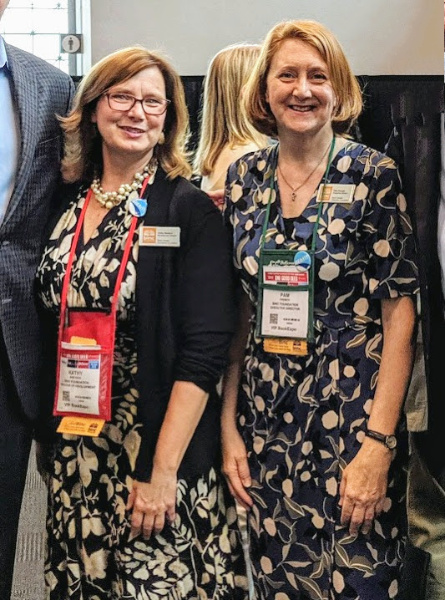 Binc's Kathy Bartson (l.) and Pam French at BookExpo last year.
Going into 2020, French noted, Binc had planned to create a fully online application by the end of the year. In mid-March, with the help of three volunteers who came on board, Binc was able to create that online application in about three days. Other volunteers joined as well, with Binc essentially bringing on anyone who had a skillset French and her team knew they needed. They also relied on a public health emergency policy that Binc had formulated in the past and was "dusted off" by the foundation's program manager in February, as worry about the coronavirus was escalating. Thanks to all that, Binc was able to send the first checks out to individual applicants on March 17. Said French: "I'm incredibly proud of the team for that."
By about March 18 the foundation was receiving a new request for assistance every 15 minutes, all day every day. Before the pandemic, Binc had earmarked around $15,000 for disaster relief, which of course ran out very quickly. As the foundation worked to raise more funds, a huge number of individuals and organizations reached out to donate.
"People were giving what they could," said Kathy Bartson, Binc's director of development. Going into 2020, Binc's fundraising goal for the year was $610,000, which was its most ambitious goal to-date. By the end of March, through the incredible outpouring of support from both within and without the industry, Binc reached $750,000 raised. "Collectively, we were able to move mountains."
In the roughly eight weeks between March 13 and the middle of May, Bartson continued, Binc provided assistance to more individuals than it had in the previous eight years of the foundation's existence combined. And when it comes to bookstores and comic book stores, Binc has helped just over 1,600 during this crisis. Altogether Binc raised and donated $2,576,000 to booksellers and stores.
"It's humbling to know that what we have been working for for the past eight years, all of the advocacy we did and conversations we had, it paid off," said French. "Folks found us when the need was highest."
As more and more places around the country have started to reopen, the volume of requests has tapered off. There is a new normal of about four requests every 24 hours, and while that level would have seemed huge as recently as February, it seems "very, very manageable" now.
Looking ahead, French said, she and the Binc team feel fairly confident that as long as the volume of requests stays below about 10 per day, they can handle it. If the numbers exceed that mark, it will be an early indicator that things are getting worse again and Binc will likely have to scale back up. To that end, many of those volunteers have told Binc to let them know if they're needed again.
For the first time in about two months, the Binc team has had a chance to reflect. Bartson said it feels like they've survived, and French said: "It didn't break us, and I think it made us stronger." Sometimes she goes over her daily notes from late March and early April, she continued, and thinks, "I can't believe we did that." --Alex Mutter
---

---