Black Friday/Small Business Saturday/Indies First: Customers--and Sales--Return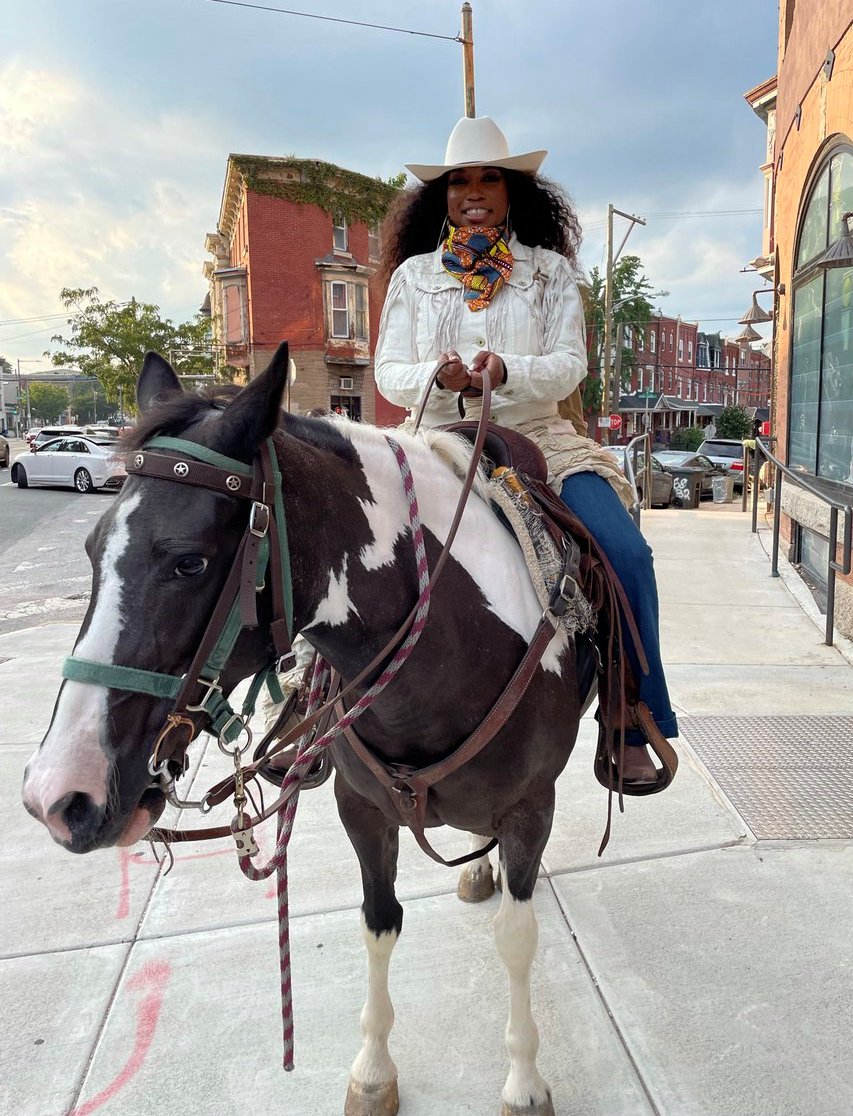 "Delivering books on horseback. Amazon ain't got nothing on us." --Harriett's Bookshop, Philadelphia, Pa.
In general retail, online sales dropped over the Thanksgiving weekend compared to the previous year, the first time this has happened in at least a decade, according to preliminary estimates. And at general retail bricks-and-mortar stores, sales rose considerably--around 50% compared to last year--but were still down as much as 25% compared to pre-pandemic times.
At independent bookstores across the country, the story was different: many indies reported strong sales, even compared to the pre-pandemic era, and some said it was their strongest Black Friday/Indies First/Small Business Saturday ever. Many attributed the good tidings to the power of the buy local movement and the continued emphasis on the need to shop early at a time when supply chain problems have been disrupting deliveries.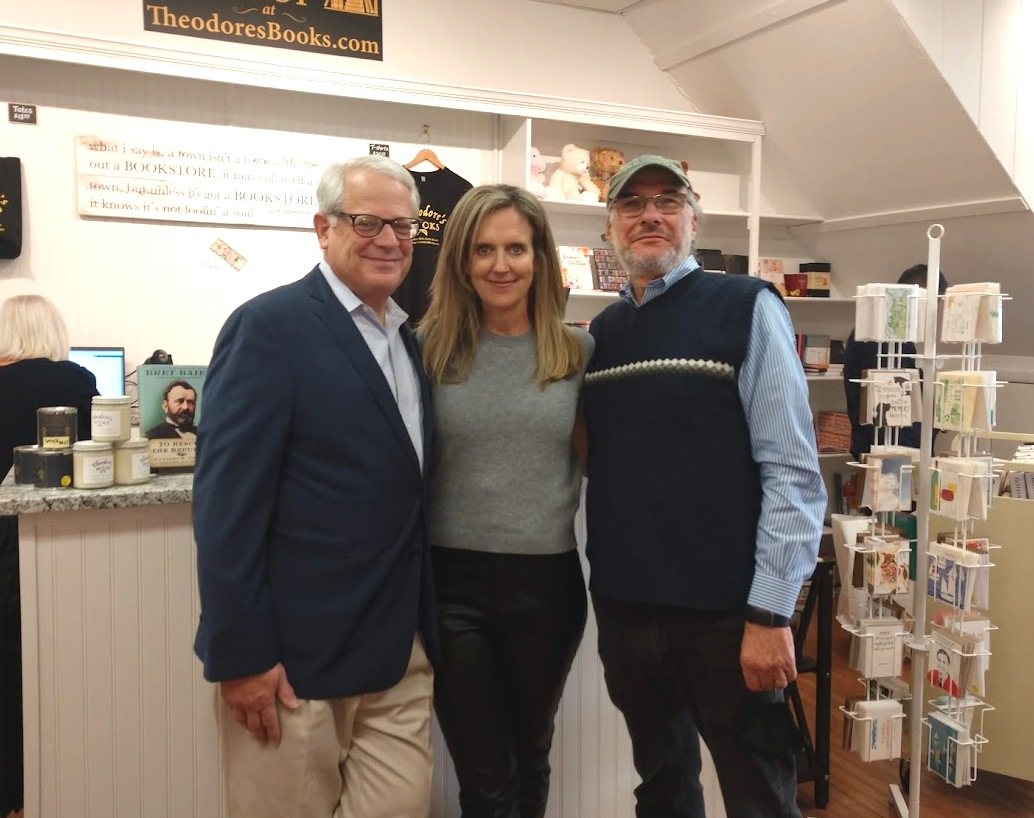 Theodore's owners Steve Israel (l.) and his wife, Cara Longsworth, with Oren Teicher.
Theodore's Books, Oyster Bay, N.Y., held its official opening on Saturday, attracting hundreds of people. "Virtually every Long Island elected official" came for the ribbon cutting, and many more for a signing with Huma Abedin, author of Both/And: A Life in Many Worlds (Scribner). Former American Booksellers Association CEO Oren Teicher, a minority investor in the store, spent the day handselling at Theodore's and commented, "It was great!"
For the 10th year in a row, Watchung Booksellers, Montclair, N.J., celebrated Festivus Friday, extending the 20% off sale over the weekend since customers were limited to five at a time in the store. Owner Margot Sage-EL called Festivus Friday and Small Business Saturday "great this year," with "numbers better than 2019!" Watchung Booksellers is benefitting, she continued, from "heightened awareness about keeping indie bookstores alive and running" and the beginning of Hanukkah yesterday. Watchung Booksellers was also featured in a piece about Black Friday on CBS News.
At Unabridged Bookstore, Chicago, Ill., Small Business Saturday has become one of the busiest days of the year, and this year was no exception. Unabridged celebrated with a 10% discount on everything and debuted two new store tote bags designed and signed by local artist David Lee Csicsko. Owners Ed Devereux and Patrick Garnett thanked "our amazing customers who helped make the day a grand success."
Kelly Estep, co-owner of Carmichael's Bookstore, Louisville, Ky., and co-vice president/secretary of the American Booksellers Association, posted on Facebook: "Today was a busy day and that's wonderful, but mostly what I noticed was that the sun was shining and customers were kind and genuinely happy to be shopping in our store. I've been doing this a long time (30ish years) and it still makes my heart swell to wrap a book and have someone say 'thank you so much' and really mean it. May each of you have something in your life that continues to make your heart swell."
In the runup to Indies First Day, Roxane Gay, this year's spokesperson, tweeted about her favorite indie bookstores across the country, a compilation she acknowledged was "not comprehensive." (See the full list here.) She also wrote: "I have been privileged to spend a lot of time at a lot of indie bookstores, and to a one, they've offered a warm, communal space filled with books and book lovers."
Libro.fm offered a Small Business Saturday Thanks for Giving special that will continue through tomorrow, November 30. Any libro.fm customers who spend at least $15 in-store or online at their libro.fm indie and submit a receipt will have a choice to get one of a dozen audiobooks for free. As of this morning, about more than 1,800 libro.fm customers spent more than $90,000 at their local indies, according to Libro's Thanks for Giving Tracker.
The New York Public Library ran its fourth annual Black Friday spoof, a fake ad "touting the best deal of any season: free books with a library card." The ad reads in part, "a deal that is 'one for the books': 'buy none, get everything free' with '0% interest loans' and 'free returns.' " In a reference to the NYPL's ending of all late fines last month, the ad notes, "the Library's prices have always been fine... but now they're fine free."
The ad was sent to the Library's 1.3 million e-mail subscribers at 9 a.m. on Black Friday and was shared on social media. The ads have traditionally generated a spike in library cards and check outs.
---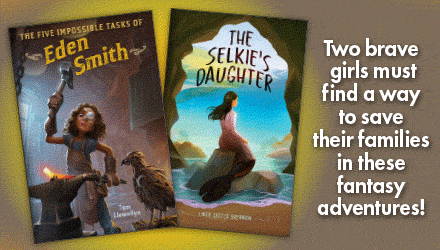 ---