Ci10: Banned Books, Community and Challenging Conversations
At Children's Institute 10 in Phoenix, Ariz., booksellers gathered on Tuesday morning to discuss their experiences regarding the recent surge of book banning that has swept across the U.S. The session touched on everything from how those book bans have affected children's book buying to how stores have responded to online trolls and how staff members can support each other during difficult conversations.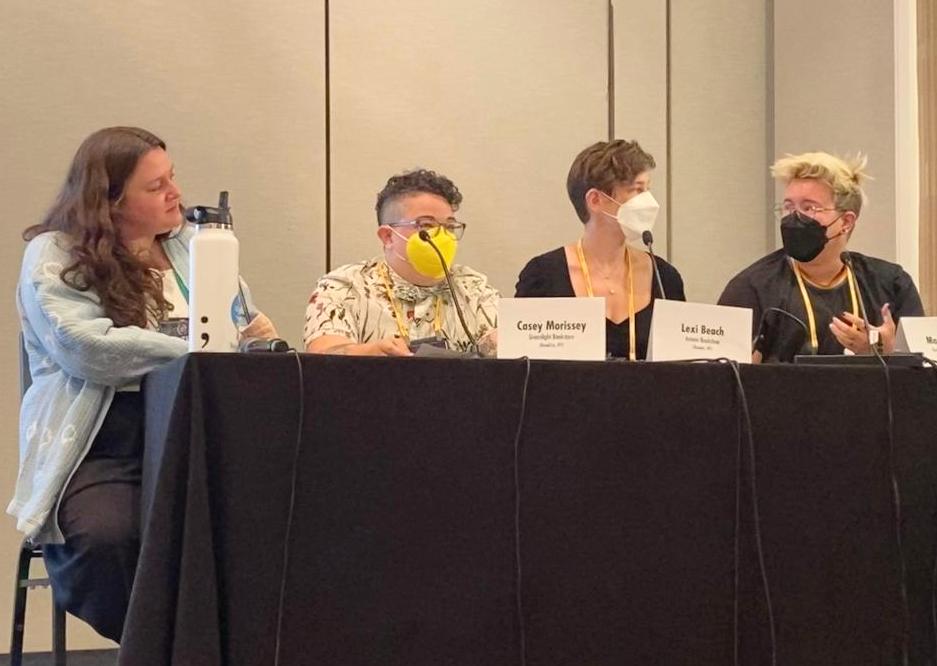 From left: Gen de Botton, Casey Morrissey, Lexi Beach and Mack Burner.
The panelists were Lexi Beach, owner of Astoria Bookshop in Queens, N.Y.; Mack Burner, assistant manager and buyer at Bookworm of Edwards in Edwards, Colo.; and Casey Morrissey, children's buyer at Greenlight Bookstore in Brooklyn, N.Y. The ABA's Gen de Botton served as moderator.
Beach recalled that around January, she started drafting a blog post about the recent book bans, but as the list kept growing she began to wonder whether she, as a bookseller, was really the person to be talking about it. She decided it was worth having some information available for customers who wanted to learn more and eventually put up a brief blog post featuring a list of commonly banned and challenged books, grouped by age. She noted that the book bans have influenced her buying in the sense that she feels "I need to have more than one copy of Gender Queer in stock, if I can get it at all." She tries to make sure she has these books available for customers, and when new book bannings make the news, it does sometimes result in increased sales for those titles.
Burner said he views the simple act of putting a book on a store shelf "as a form of passive activism," and the most important step as a bookseller is to have the book available. When it comes to selling children's books, there are plenty of "customer education" moments, either with a child or with a parent. Burner described himself as a big proponent of the idea that books are safe spaces for processing new ideas, and when parents sometimes object to the content in certain books, he likes to ask whether they would prefer that their children be confronted with these things for the first time "in the real world," or be able to digest it in a book first. Bookstores themselves, he added, have an opportunity to be a "port in the storm" for both customers and staff members.
Morrissey pointed out that Greenlight is fortunate to be in New York City. The team can pretty much feature whatever books they like on display tables and no one comes in to say "why do you have this book here?" They try to make sure banned titles are "getting to customers" by having them in the store as well as at off-site events. In the instances where people have called to "have a fight" about a particular book, those callers are often not regular customers.
Elaborating on the issue of harassment coming from people who aren't customers, Burner explained that Bookworm of Edwards held its first drag queen story time last week and subsequently experienced its first online troll attack. Looking at the names of people commenting and messaging, Burner realized that they "don't shop here." Burner remarked that as a manager, he views his staff and their well-being as his biggest priority, even before customers, and while Bookworm of Edwards is not very hierarchical, there is a "tiered system" for when "sh-t hits the fan." There are "layers of protection" at the store, and floor staff are told to find a manager if a situation makes them feel uncomfortable. From there, floor managers can bring an issue to the owner, and the owner can do "whatever they want."
On the subject of empowering staff, Morrissey mentioned de-escalation training as something that was "really helpful." It teaches staff members what to do when faced with an irate customer, and also how to help other booksellers when they've been cornered by a customer. Morrissey added that with a lot of these banned and challenged titles, the content tends to get misrepresented. As an example, they pointed to the book Everywhere Babies by Susan Meyers and Marla Frazee. The controversy around the book would lead one to believe that the entire picture book is about gay parents, but that is actually "only one small illustration."
Beach said that she's been "really lucky in Astoria." There have been minimal "problem conversations" with customers and most of those have been about the store's mask policy. Beach gave her team a script to follow in those instances that reiterates that the store is just trying to do its best to keep everyone and their families safe. And while it hasn't come up very often, Beach has a standing policy with her staff that if someone is trying to order a book that makes them deeply uncomfortable or threatens or demeans who they are, they have the right to tell the customer that the store "can't get that for you." --Alex Mutter
---

---