Making Masterpiece: 25 Years Behind the Scenes at Masterpiece Theatre and Mystery! on PBS
by

Rebecca Eaton

Rebecca Eaton has long been the force behind television's greatest cultural mainstay, PBS's Masterpiece. But until now its executive producer has tended to let the shows do the talking. Whether they're modern hits like Sherlock and Downton Abbey or sublime adaptations of Dickens and Austen, these series have several things in common: great scripts, great directors, great actors. (Wags will add "great costumes"--and they won't be wrong.) In short, they're sheer quality.

And so, it quickly emerges, is the series's American producer. But as Eaton acknowledges in her appealing and inspiring new memoir, Making Masterpiece, she rather fell into television, fetching up at the BBC in 1969 thanks to a college exchange program. One of the book's many surprises: Eaton initially didn't think producing Masterpiece Theatre would be, as Austin Powers might put it, her bag.

Born in 1947, the daughter of a Caltech professor and an actress, Eaton grew up in Pasadena, "a dark-haired, bookish teenager in a land of blond, nut-brown surfer girls." From the start, there were signs that production was in her blood. In her teens, Eaton's interest in theater--and early awareness that creating a magical performance involved something more quotidian: "discipline and routine"--was matched by a love of language and literature. Add to that a growing obsession with all things British, right down to stodgy food, and in hindsight Eaton seems destined for Masterpiece.

Throughout her memoir, Eaton's glimpses of her younger and older selves are fascinating, and she has self-deprecation down to a fine art (note her response to the last question in the interview below). While joining forces with Robert Redford on Masterpiece's adaptation of Tony Hillerman's Skinwalkers, she came to admire his quiet, authoritative focus. "That concentration actually gave me confidence to up my game--to express myself better." Of course, she ruefully adds: "It's a quality that's very difficult to replicate. For me, impatience and my 'Commander Overdrive' instincts get in the way."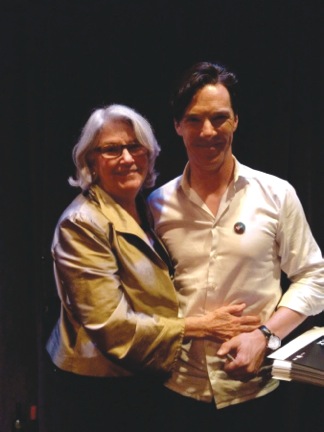 Rebecca Eaton with Benedict Cumberbatch (photo courtesy of the author)
But in Making Masterpiece, these Commander Overdrive instincts prove ideal, for Eaton does something few memoirists would dare. She asks others to weigh in and expand on her recollections, allowing us both a close-focus and more panoramic vision. Whether her collaborators are colleagues at PBS, her daughter or actors like Kenneth Branagh--who wrote to the preface--their input is far from pro forma.
Writing students, not to mention nostalgists, will relish Eaton's portrait of Alistair Cooke, Masterpiece Theatre's first m.c., and Julian Fellowes's thoughts on constructing Downton Abbey are likely to become required reading at film schools and beyond.
There's also food for those insatiable Harry Potterites. They'll enjoy the pages on the filming of David Copperfield, whose cast included a nine-year-old Daniel Radcliffe making his acting debut. His first encounter with Maggie Smith on the set? "Nice to meet you; would you like me to call you 'Dame'?" It also emerges that the actor, possessed of one of the most impressive work ethics going, was something of a skiver at this point. His director Simon Curtis laughingly remembers having to admonish him: "I sat him down and said, 'Daniel, I know filming can be very boring, but we're on a journey. I don't know if you want to be an actor or not, but I can guarantee you that whatever you do, never again will you play the title part in a great British novel with actors of this caliber.' "
How could Curtis have known that Radcliffe would do just that? Eaton can't have either, but she kept--and reproduces--"one of the very few actor thank-you notes" she's received: "Dear Rebecca Thank you for giving me such a good time in Pasadena I had a great time. Love Daniel Radcliffe."
Early on in her memoir, Rebecca Eaton tell us that what she loves most in the world is stories (actors, one senses, are a close second). In fact, as she comes to realize, setting down the story of her many years at PBS has galvanized her. She has "fallen in love with Masterpiece again, both as a viewer and as a worker." A treasure house of anecdote and insight, observation and object lessons, Making Masterpiece is quietly electrifying. --Kerry Fried
Viking, $29.95, hardcover, 9780670015351, October 29, 2013
---

---