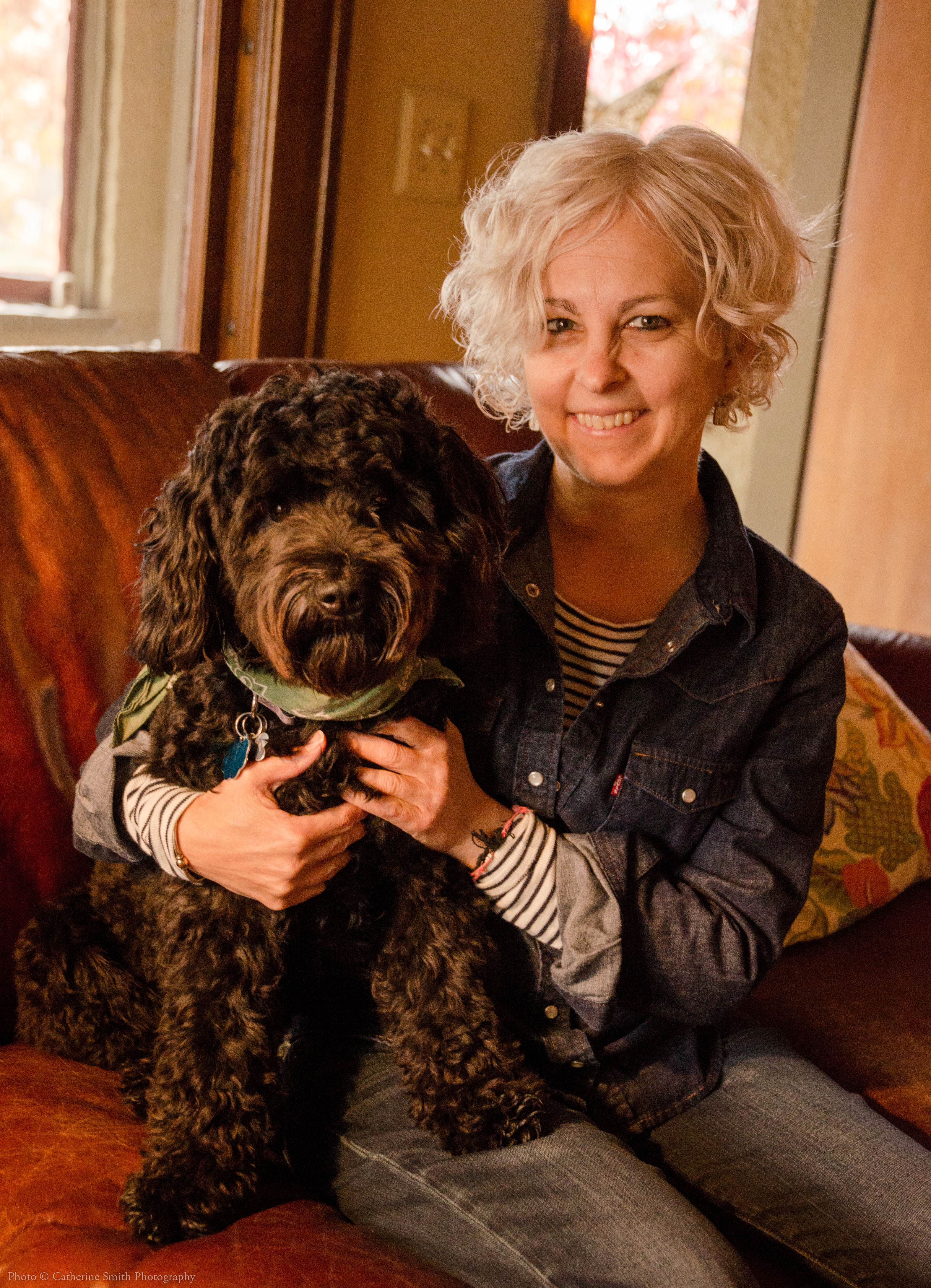 Kate DiCamillo with Ramona (photo: Catherine Smith)
There are more than 22 million copies in print worldwide of Kate DiCamillo's books, including The Tale of Despereaux,Flora & Ulysses (both of which received Newbery Medals) and Because of Winn-Dixie. She served one term as National Ambassador for Young People's Literature, appointed by the Library of Congress. After working together with illustrator Harry Bliss on Louise, The Adventures of a Chicken, the animal-loving duo was determined to write another book together, this one about a dog. Thus, Good Rosie! (Candlewick, September 4, 2018) was born. Shelf Awareness talked with DiCamillo about friendship, Peanuts cartoons and the appeal of a certain kind of "heartbroken hopefulness" in a character.
Wow, dogs and people really are the same, aren't they? Did you ever have some of the same struggles Rosie does when trying to make friends?
Yes! I particularly relate to that moment in Good Rosie! when Rosie is standing with Fif(i) and Maurice and she looks up at the clouds and everything seems so serene up there, and it's all so complicated down on the ground. Life is more complicated, more chaotic and louder with friends. It is also sweeter, richer, deeper.
You have such a wide range of book subjects and approaches. Where did the inspiration for Good Rosie! come from?
A long time ago, I wrote a poem called "Snow, Aldo" about a man and his dog in Central Park. The poem was for an anthology called Thanks and Giving. Harry did an illustration for the poem and that art is hanging in my house and gives me joy every day. Harry gets dogs.
For over a decade now, Harry and I have said to each other: Why don't we do a dog book together? And finally, we have.
Did Rosie's personality emerge as you wrote the book or did you already know what she would be like when you started writing? How did Maurice and Fif(i)'s wonderful voices come to you?
I never know what any character is going to be like when I start writing. Harry had done some sketches of dogs and I started with those sketches and Rosie emerged first. And then, oh wonder of wonders, here came Maurice. And Fif(i).
The book is laid out like a comic book, with panels telling the story. Why did you and Harry decide on this format?
We are both huge fans of Charles Schulz's Peanuts. We wanted to capture that heartbroken hopefulness of Schultz's. And the panels came from that, I think.
What do you hope children will take away from this story?
How complicated and wondrous and deeply satisfying it is to connect with another being.
What did you take away from (writing) this story?
That life without friends is meaningless.
Tell me about your dog(s). (I assume you have at least one!)
Ramona. Named for Ramona Quimby, of course. She is a mini golden doodle in training to be a circus dog. Really. I've never seen a dog so adept at leaping about on her hind legs.