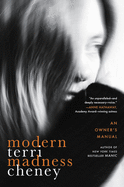 "There are very few things more frustrating than trying to describe the state of your mental health to someone else," writes Terri Cheney in the pages of Modern Madness: An Owner's Manual. "It's amorphous and abstract; it defies pinning down." But she has proven herself a master in doing just that--describing the state of her mental health and pinning down her experiences--in her writing, further evidenced across nearly every page of Modern Madness, her fourth book about living with the "long, inarticulate howl" of mental illness.
Cheney started writing about her experience living with bipolar disorder after "a whole lot of terrible" suicide attempts, encounters with the law, broken relationships and, eventually, a stint in a mental hospital and several rounds of electroshock therapy. "I felt suffocated by all the things that weren't being said," she recalls. "And so, to save myself, I started to write." That writing led to her first memoir, Manic, which went on to become a bestseller and the basis of an episode of Netflix's Modern Love.
In Manic, Cheney "threw away all the clinical stuff." That "stuff" makes a comeback in Modern Madness, as Cheney combines clinical research summaries and accounts of various symptoms and expressions of mental illness with anecdotes and stories about her own lived experience. This combination bridges the potential gap between the "one-size-fits-all approach" of modern medicine and the individual experiences of each person living with a diagnosis of mental illness; by including both the universal and the unique, the studied and the personal, Cheney's book evolves to become more than a layperson's analysis of mental health, and more than a memoir. It is, as the subtitle promises, an "owner's manual," offering readers a guide to living with mental illness.
The framing of Modern Madness as an owner's manual defies simple description or easy genre placement. Like any good primer, it starts with the basics: how mental illness might appear and common symptoms (depression, mania, cycling, suicidality and physical manifestations of all of the above). Cheney then offers "User Precautions," "Instructions for Use" (with great detail about relationships of both the romantic and non-romantic variety) and "Troubleshooting" tips to discern good coping skills from bad. "Maintenance" outlines the role of medication and therapy, and "Warranties" urges readers to create a culture of acceptance when it comes to mental illness. Because it varies greatly from one person to the next--even those with the same diagnosis--Cheney's exploration of the subject is by no means exhaustive or prescriptive, though she does offer practical, actionable advice.
Any book about mental illness--especially when that illness led to so many moments of "terrible," as Cheney recalls--inevitably has moments of darkness, and Modern Madness is no exception. Cheney writes with a raw sense of urgency about the awful narrative inside her head during suicidal episodes, and the manic highs accompanied by extreme "drinking and driving and dating." But alongside those darker moments are stories of hope and humor, some laugh-out-loud funny. In recalling a moment when a case worker in a mental hospital asked her about her gang history, Cheney notes that she responded, "Varsity cheerleader." Cheney pokes fun at the very worn-out advice to "just exercise more!" when depressed (and offers advice on how to support a depressed person in ways that might actually be useful, all of which center on giving the person in question space to talk about their pain and be heard). Let it not be said that talking about mental illness has to be dry; the low moments in Modern Madness make these small moments of humor stand out all the more.
In the introduction, Cheney writes that Modern Madness is for those living with mental health issues themselves, but also "the people who love and sometimes want to strangle them; the health care professionals trying to help; and the millions of other people whose lives are affected by mental illness in one form or another and don't understand what it is, or more important, what the hell to do about it." It's hard to imagine a more expansive--or accurate--audience for this important and timely book. Modern Madness should be required reading for anyone impacted by mental health matters--and, as Cheney says, that's pretty much everyone. --Kerry McHugh