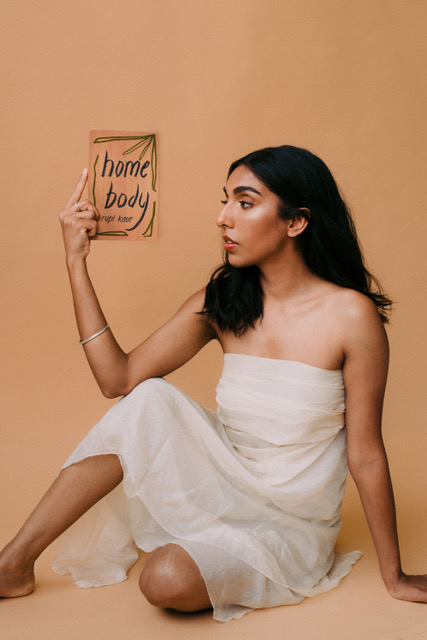 (photo: Amrita Singh)
In 2014, Rupi Kaur took the publishing industry by storm when her debut collection, milk and honey, became a runaway hit, selling millions of copies and planting Kaur at the top of the New York Times bestseller list. Suddenly, Kaur was a household name with millions of Instagram followers and as many critics as fans. Now 28 years old, the Indian-born Canadian poet, artist and performer has traveled around the world with her affecting, minimalist poems. Her third release, home body--out November 17, 2020, from Andrews McMeel Publishing--is an exploration of her depression and healing in the years that followed the debut of milk and honey.
It's been a few years since your last poetry collection, the sun and her flowers. home body touches on your struggle to write a third book in the years since. What was challenging about creating this collection that wasn't perhaps so challenging before?
What was challenging about creating this collection was that I went through so many tumultuous personal changes during the process. I had become a completely different person than the one who wrote the sun and her flowers, and it took a while to understand my new self. Over the last few years we've all felt a deep collective anxiety wash over us, given the political climate in America, and I think a lot of exhaustion came with that. That's a lot of noise to try and battle through. It was hard to find stillness within the chaos.
home body plumbs the depths of your own depression, especially in many of the early poems. Have you struggled more with depression in recent years? What was the process of transforming that emotion into writing?
My biggest battle with depression has been in recent years, after becoming an author. I tried really hard not to write about it because I didn't think anyone would "get it." I barely got it myself. I was so lost and confused. So for years, I tried to write about other things, and when that didn't work, I realized I was avoiding the exact things I needed to be writing about. And it wasn't until 2019 that I realized I wouldn't be able to ever write anything else until I let my body process the depression.
I had to remove 90% of the poems from my earlier drafts because it all got quite bleak, and I couldn't bear to put that out in the world. But the process of transforming this emotion into writing was that it restored my power. When I wrote about it, and I took the time to find the exact words for the pain, it calmed me. It made me lighter. It allowed me to then have conversations about what I was going through with my loved ones.
You have accumulated an enormous Internet following since your first collection. Yet you say you're most at home when performing your art on stage. Has the pandemic and subsequent quarantine period made you feel at all disconnected from your audience?
I would say that, early in the quarantine, I felt disconnected from my readers because I was so used to connecting with them in person. I toured for two years with the sun and her flowers. And so when quarantine started, I realized how much I missed the connection I had with my online community, something that I felt very strongly from 2013 to 2015. That's how I got the idea of doing Instagram live writing workshops. I think I was aching to feel togetherness. And it really helped. Doing those workshops, and actually seeing and talking to the beautiful people who follow me online, solidified how important it was for me to finish home body.
One of the most interesting sections of home body is when you dip briefly into detailed memoir, telling the story of your father's career as a truck driver. Why did you decide to use this story in the book?
Before the quarantine and this pandemic, I was staying in New York. I was visiting my family in Brampton, Ontario (just outside of Toronto), when the pandemic was at its worst and everything shut down. I haven't lived with my parents for a decade, and at first I was terrified. I couldn't imagine living with my family of six with a deadline approaching.
But home was beautiful. It was such a special surprise. My family and I haven't had the opportunity to spend quality time together in the last few years. Like I mentioned in the poem, my dad was always at work growing up. Covid-19 was the first time we spent so much time together. He was off work for two months, and within those two months we were able to have so many conversations we've never had before.
The story I tell in that poem is one he shared with me during quarantine that completely broke my heart. It's just one of the many heartbreaking stories he shared. I felt it was necessary to include this story because I've seen how people have belittled my father because he drives a truck. But now, in the midst of this global pandemic, it was truck drivers, food delivery workers and janitors who, along with so many other essential workers, were the ones that kept us going.
I also realize that truck driving, in a way, took my father from me. It didn't allow us to have a relationship. Truck driving is a very common job in my Punjabi-Sikh community. We immigrated here for a better life. Our parents had other jobs back home, and here they took up this grueling work to put food on the table and get their kids through college. So this piece is also a community piece for me, that a lot of us understand. And at the end of the day, I am always writing for my community.
Poetry is becoming increasingly popular among readers. Why do you think this is? What is the broad appeal?
I think people are seeing the importance of self-care and well-being, and poetry fits perfectly within that. Social media is democratizing industries that were only reserved for the "highbrow," and it's so beautiful to see people who haven't been included in the conversation be part of that conversation. Writers now have direct access to readers. This is revolutionary for us, who wouldn't have otherwise gotten our manuscripts in front of agents, let alone publishers, because they didn't see value in our perspectives.
Why does a simplified style of poetry appeal to you?
Growing up in a Sikh household, I was imbued with poetry from a young age. The poetry is tight, succinct, of few words but never-ending depth. When a child is born, poetry is sung through shabads and, as we grow older, poetry becomes ever-present in our lives. Our names come from sacred poetic verse. When we get married, it is those same poems that are sung, and when we pass, it is poetry that takes us back home again. --Lauren Puckett