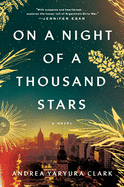 Andrea Yaryura Clark's debut novel, On a Night of a Thousand Stars, is a powerful meditation on generational trauma, a coming-of-age story full of surprising revelations that delve into the silences surrounding Argentina's Dirty War. Clark's narrative follows dual tracks, the first set in the late 1990s and focusing on Paloma, an American college student accompanying her Argentine parents to their home country, where her father, Santiago Larrea, will be receiving a prestigious ambassadorial appointment. Paloma's perception of her father is shaken when she learns that he ran a safe house for people fleeing Argentina's political dictatorship in the 1970s, something that he now refuses to talk about. Faced with his silence, she tries to reconstruct his past on her own, revealing hidden truths about her wealthy family that are woven into a period of Argentina's history that some would rather forget. Concurrently, Clark takes us back to the 1970s to depict the tragic romance that spurred Santiago's transition from an apolitical ladies' man to someone willing to take great risks on behalf of the politically repressed.
In their respective narratives, Paloma and Santiago are both young and somewhat aimless, in the process of figuring themselves out and shielded by their wealth and privilege. The Larrea family's vast agricultural interests around Argentina "could produce enough grain to feed the entire population of Paraguay," and Paloma reflects that "the immensity of such a privilege and responsibility felt overwhelming, so my response had always been never to think about it." Similarly, Santiago gives little thought to the political turbulence leading up to the return of General Juan Perón from exile until violence erupts around him, and even then his interests soon shift back to pursuing the beautiful Valentina Quintero. It's only as their relationship develops that Valentina's convictions begin to change him, to shatter his naive perspective on their nation. One of the novel's chief themes is the obliviousness born of privilege, and how world-changing it can feel when that obliviousness is dispelled and hard truths absorbed.
Paloma's research into her father's activities is accompanied by her growing awareness of Argentina's complex relationship with its past. For many people, like her father, the past is filled with pain and hard choices that they would rather bury. The same holds true for those who played active roles in the Dirty War, including torturers and murderers who, under a blanket pardon, have moved on to play major roles in Argentine government and society. But then there are those who won't forget, who can't forget: the relatives of the desaparecidos, the "disappeared," those who vanished into the bowels of the state's security apparatus during the worst years of the dictatorship. Paloma's individual struggle against her family's deliberate forgetfulness joins with the national struggle as she becomes close with Franco Bonetti, a member of an activist group run by children of the "disappeared." As their relationship develops, she learns about the imprint that the military dictatorship left on so many, and her increasingly disturbing discoveries about her own past link her ever closer to that national trauma.
The novel becomes a descent into darkness as Paloma learns the bitter truth about her family, and Santiago's romance with Valentina in the 1970s is disrupted first by distance and miscommunication, and then by the chaos and fear enveloping the country. Clark, who grew up un Argentina during the 70s, excels at demonstrating how life goes on even during terrifying times, showing romance and jealousy and heartbreak existing even inside a violently repressive regime. In one particularly memorable passage, Valentina and Santiago go to an idyllic, secluded spot to swim, only to find a car buried under vegetation: "a four-door Renault, the color red in the parts that had not been burnt. They peered inside. Half expecting to find a charred body, they sighed with relief when they didn't." When Santiago suggests that they report what they found, Valentina says: "To who? The police? No way. What if they had something to do with it?" Things become darker still when Clark eventually takes readers inside one of the regime's notorious torture centers. But this is counterbalanced by the unexpected acts of bravery the author depicts, as well as the relationships and romances that come to mean everything in a world where truth is hard to find.
Paloma's cozy life with her wealthy family cannot survive to the end of the novel, at least not in the same configuration. But there is hope in the connections she builds beyond them, as well as in the power of dispelling ignorance and lies. Early on in the novel, Paloma sees the Madres de Plaza de Mayo, mothers of disappeared children who "won't stop coming to the square until the Government tells them what happened to their children. They're here every Thursday. It's been twenty years now." On a Night of a Thousand Stars so vividly depicts the agony of uncertainty, of not knowing the truth, that Paloma's journey can't help but feel oddly triumphant. She may have lost her innocence, but she's gained a much deeper understanding of herself, her family and her country. On a Night of a Thousand Stars suggests that any hope of healing can come only after the truth is out. --Hank Stephenson