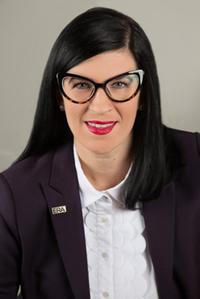 (photo: Cat Palmer)
Kate Kelly is a feminist, activist and human rights lawyer. The founder of Ordain Women, a group that advocates for gender equality in the Mormon church, Kelly is also a staunch advocate for the Equal Rights Amendment (ERA) and co-host of a podcast that explores the current state of the amendment, Ordinary Equality. Her book of the same title (Gibbs Smith, March 1, 2022) explores the history of the ERA via the stories of the women and queer people who helped to shape it.
Can you share a bit about your own story and work around the Equal Rights Amendment?
My entrée into the fight for the Equal Rights Amendment began on the opposite side of the battle. I was raised Mormon, and my mother and grandmother were assigned by the church to fight the ERA in Arizona in the 1970s. I was born into a family where even the women virulently opposed equal rights in the Constitution. It wasn't until much later in life, when I started a movement in the Mormon church for gender justice and for Mormon women to get what's called the priesthood, that I started rethinking a lot of history.
Then I went to law school, and I realized that not only was I not part of the Constitution, but my own mother and grandmother were part of the reason why. It helped me understand the other side and why there would be women who would oppose our own equality, and who those women are. Because I know them, and I love them.
Because I was raised Mormon, I am also a trained missionary. My proselytizing background translates to my new life, where I'm essentially an ERA missionary. I think it's important for people of all backgrounds to be engaged in a struggle, especially a struggle as important as fundamental equality and constitutional equity. I've learned a lot of skills that not a lot of people have, especially on the left: how to approach people, how to build on common beliefs, and how to subtly convert people to your mission. That's what we need.
You have a very specific way of framing your conversation around the Equal Rights Amendment that feels like it's part of this approach you have around common beliefs and converting people to your mission.
It's important to acknowledge that women are equal, and to frame it in that way. We're not groveling, we're not begging, we're not trying to push our way into something we're not part of. Women are already equal and have always been an integral part of building this country and this Constitution from the very beginning. But our contributions and our existence have been erased. All we are asking is for our equality and human dignity, which we all possess, to be enshrined in the Constitution. I think there is a way to demand rights and equality from a position of dignity and strength, and that is what I have tried to show in the stories of these women and queer people. They were incredible pioneers, incredible people. They were not only ahead of their times, but they were ahead of our time, in their thinking and in their actions. I'm trying to help people understand who they were, and who we are. We already are equal, we just demand that it be recognized.
This is a really stunning and bold book in terms of design. Where did the idea for that style originate and what was the thinking behind that approach?
I pitched the book to a lot of publishers and got a lot of interest, but that interest was for a more academic tome, 300 pages long, lots of footnotes and the like. That is never what I wanted for this book. I wanted it to be very approachable, to have this visual element. I wanted the characters to come alive. They were alive, and some still are. That was always my approach for the book, so when Gibbs Smith said they'd not only publish the book but go with my vision for a very rich imagery for the text, I was thrilled.
I wanted something that many people can feel drawn into and a part of. I hope that people can see themselves in this movement. Because it's not over. I want people to see photographs and illustrations of the actual people, and see themselves in the text.
People tend to think of the ERA as that thing in the 1970s, with lots of hippies marching in the streets. It's a very dated image of the amendment, so I wanted something now, something new. We need people to understand that this is still happening now.
I know Nicole LaRue, the illustrator, personally; she's a friend and also ex-Mormon. I knew she would be a perfect match, both ideologically and in the illustrations. It was very exciting to work with her. I'd be texting at midnight, sending a random picture of a statue or a historical photo of Mary Church Terrell, and Nicole then turned it into a beautiful product that I think appeals to a lot of people.
You also co-host a podcast with the same title, Ordinary Equality. How do the two fit together?
In the book, I wanted to give us a grounding in who brought us to this point. The podcast brings listeners up to date with where we are today as things continue to shift. So the book does not reflect the podcast in content, even if it does in spirit.
How did you go about selecting which stories to include in Ordinary Equality?
I'm not a trained historian, I'm a lawyer. And a storyteller. And what I wanted to accomplish is not a legal or procedural analysis of the Equal Rights Amendment, which you can look up on Wikipedia, but for people to understand the richness and diversity of the people shaping the ERA and changing the Constitution. That's what I had in mind when I was drafting this book and doing the research. I built the list, too, with an eye on diversity. As a queer person myself, it was important to me to remember that queer people have always been engaged in the fight for equality, and queer people are always on the forefront of pioneering thought, pioneering actions. And, of course, women of color have also been the pioneers of our history.
I want to tell a different version of the story of the people who came before us. They weren't just white, they weren't just straight, and they weren't just men. I wanted to retell a more accurate picture of what happened in our history and who America is at its core. Of course a world didn't exist where women weren't there; that is a false world, an untrue narrative. So to do the reverse and actively make women part of this history is not only corrective, it's also revolutionary. --Kerry McHugh