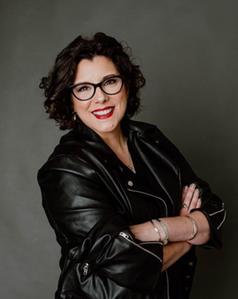 (credit: Holly Virginia Photography)
New York Times and USA Today bestselling author Deanna Raybourn is known for her historical series featuring amateur sleuths Lady Julia Grey and Veronica Speedwell. Though most of those novels are set in Victorian England, Raybourn is a sixth-generation Texan living in Virginia. After earning a degree in English and history, she married her college sweetheart and taught high-school English before turning to writing full-time. Her work has been nominated for Edgar and Agatha awards, among others. Killers of a Certain Age, about four retired female assassins in their 60s who are suddenly targeted for death, is her first contemporary novel and will be published by Berkley on September 6, 2022.
How much research did you do for this novel and how much fun did you have? The recipes for poison seem very plausible.
I had an incredible amount of fun plotting my fictitious murders! I've done a fair bit of research on poison for my historical novels, so I had a good idea of where to start with the work on this book. It would have been easy to create some mythical, untraceable toxin, but I wanted this to be a bit more realistic. Since they're on the run, my assassins don't have the luxury of a lab or chemists for these hits, so I had to work with items that would be easily obtainable. Luckily for me, we're surrounded by potentially fatal substances so I had a lot of options. (This is where I should probably post a disclaimer and say please don't experiment with any of the methods in this book.)
The women are vital and deadly but realistically experiencing some physical signs of aging in the present-day scenes. Tell us about your decision to write about female assassins in their 60s.
My publisher came to me and asked for a book about badass older women. What form that would take, the setting and plot, how old they would be--all of that was entirely up to me. I've always written characters younger than I am, which is easy; if you've lived it, you can draw on your own experiences.
But I wanted to push myself and write a little older. These characters were born about 10 years before I was, so they're half a generation removed. Our cultural references are not quite the same, our situations in life are a little different, but we have enough in common that I was able to look ahead a decade and estimate where this foursome would be. There's a poignant element to knowing that some aspects of life are completely finished and you're never going back. But that's also incredibly freeing. Aging has its compensations, and for everything you give up, you gain something.
They all have distinct personalities and different strengths. Who did you find easiest to write and why?
Billie was both the hardest and the easiest. We're both from Texas, we're both stubborn and independent. But getting her voice exactly right was an elusive thing. I had to write through and toss out a few scenes until I cracked it--and I still don't know how or why it finally clicked. I just know one day I sat down and I had her. My husband read the scene and pointed out it was basically my Twitter feed as a novel, and I was so annoyed that he was right. If I'd known that earlier, it would have saved me a lot of writing!
The action scenes are so cinematic. Were you inspired by any movies?
I had a watch list of films that kept me in the right headspace, whether it was for the action scenes or for scenes of women working together--Wonder Woman, Ocean's Eight, Killing Eve, Spy, Atomic Blonde.
That's the perfect list for this book.
I still go back and watch scenes when I need to pump myself up for something. I also have a husband who has directed stunt shows and a friend who is a stunt performer. I had them read the most complicated fight scene just to make sure it would work physically.
And I had to balance the experience and techniques of my characters with the fact that they're older, so whatever they do, they're going to feel the aftershocks. They can't have an incredibly intense hand-to-hand fight and just shake it off like they could in their younger days. They need yoga and ibuprofen and ice packs, but they still have a lot of fight left in them.
After multiple successful historical series, what prompted you to write your first contemporary novel?
I was really excited by my publisher's invitation to write something about strong older women, but they expected another historical. I knew immediately that I wanted to do something completely different. I didn't just want to leave my comfort zone with this; I wanted to burn it down. The chance to do something so utterly outside your range doesn't come along that often, and after I've gotten relaxed with my writing, I like to terrify myself a bit. That's how I grow as a writer. I've done things with this book I never imagined I could do, and that's hugely gratifying.
What were the differences in your process, if any, between writing historical and modern stories?
The process is basically the same. I make a playlist and a collage of images, read lots of nonfiction and some fiction of the period, and I watch films that tap into some element of what I'm trying to write. I also try to stay pretty far away from reading any contemporary fiction that's similar to what I'm writing.
Is this the beginning of a series? If yes, what's next for Billie and her colleagues?
I have a few ideas in mind of what I'd like to do next. We'll just have to wait and see. --Elyse Dinh-McCrillis