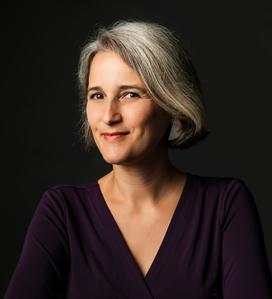 (photo: Tania del Carmen Fernández)
Rachel Beanland is the author of Florence Adler Swims Forever, which was an Indie Next pick, named one of the best books of 2020 by USA Today, a New York Times Editors' Choice and received the 2020 National Jewish Book Award for Debut Fiction (Greenberg Prize). Beanland earned her MFA in creative writing from Virginia Commonwealth University and lives with her family in Richmond, Va., the setting for her second novel, The House Is on Fire (Simon & Schuster, April 4, 2023), about the Richmond Theater Fire of 1811--one of the deadliest events in early U.S. history.
Your novel powerfully shows how the same tragedy can bring out the best or the worst in people. Do you think of this story as having particular heroes and villains?
I do! It's funny--there's this villainous character in my first novel, Florence Adler Swims Forever, and whenever I'd get asked about him, I always made a point of saying that I didn't believe in writing bad people, just regular people who do bad things. I might be revising that position, however, because in The House Is on Fire, there are a few characters who I'd 100% qualify as villains. Likewise, there are some really good people who risk life and limb to do right by the people around them. One of the benefits of writing a disaster is that your characters get the chance to prove who they are pretty quickly.
As I was reading, I couldn't help but think about other national tragedies such as 9/11 and Covid and the fiction that's been inspired by them. Was there much of an immediate literary response to the fire? How would you see your book as fitting into a lineage of disaster narratives?
Today, we can point to the popularity of novels like Jonathan Safran Foer's Extremely Loud and Incredibly Close, which came out after 9/11, and Emily St. John Mandel's Sea of Tranquility, which was written during the pandemic, and draw a line between our love for these disaster novels and our need to process our collective grief. But in 1811, novels were still considered frivolities for women of leisure, and almost all of the novels American women were reading were imported from England.
Richmond's literary community was dominated by men such as Thomas Ritchie and William Wirt, both of whom wrote nonfiction, and in the days and weeks after the fire, first- and second-hand accounts, sermons and a little poetry began to appear in the local newspapers as well as those up and down the eastern seaboard. Many of the sermons were reprinted in book form and sold as commemorative items, and at least one popular (and rather morose) poem was reprinted on a broadside and widely circulated. It's not until decades (and in some cases centuries) later that we begin to see plays and eventually novels like this one build on that tradition of meaning-making.
Some of your characters have clear and documented histories, while others were more or less invented. What guided your decisions as to who to focus on, and when to make up figures to suit the plot?
In 1811, Richmond was a city of about 5,000 white residents and 5,000 Black residents, and because the theater had a gallery for free and enslaved Blacks, the fire's devastating effects were felt across both communities. I wanted characters who represented those two communities, and I also wanted characters who would allow me to explore socioeconomic and gender divides. Women died in the fire in much greater numbers than men, and the wealthy were particularly disadvantaged because they were in the upstairs balconies, which proved to be the most difficult to escape. I also couldn't see writing this story without giving the reader a peek backstage, so I chose to follow one character who is associated with the theater company.
You draw a parallel with the present day in terms of how quickly conspiracy theories start to spread. We tend to think of fake news as a recent phenomenon, but of course that's not the case. Why did you want to include this element?
When you're writing fiction that's based on historical events, you've got to learn to read between the lines. For instance, in the fire, there were all these women who had died, and onlookers began to suggest that maybe Richmond's menfolk hadn't done everything they could to save them. In the men's accounts, which were the only accounts initially published, they protested these accusations a little too loudly--a good indication that the accusations had some truth to them.
Like a lot of Americans, I'm really interested in this idea that two people can come through the same experience and tell themselves radically different stories about what happened and who's to blame. We saw it in the last presidential election certainly, but we also see it when we try to make sense of the pandemic, reproductive rights, climate change--the list goes on. Fiction works best when your characters have competing agendas, and in our current age, there is certainly no shortage of those!
How did you manage the extensive research involved in The House Is on Fire?
The research is tough, but it's also extremely rewarding when you get it right. Usually, I spend several months researching a book before I ever write the first word, but even after I've begun to write, I don't stop researching--I just de-prioritize it. I've developed all these little rules to ensure I'm putting my emphasis on writing great prose and not figuring out, for instance, exactly what kind of toothbrushes people used in 1811. I don't do any research in the morning (when my brain is fresh and would be better used writing), and I allow myself to write all kinds of little notes in CAPS in the manuscript. In an early draft, I'll have sentences that read something like, "Sally put the TYPE OF CUP down on the table," and it's not until revision that I go back and try to fill in those small details.
When it came to writing The House Is on Fire, my job was made infinitely easier because the public historian Meredith Henne Baker had published a remarkable nonfiction account of the Richmond theater fire about a decade prior. I went back to all the primary sources--many of which are in the Library of Virginia and the Virginia Museum of History and Culture--but I also had Baker's work to help me make sense of what I was reading.
You live in Richmond; would you say there's much of a cultural memory of the event? Do you hope that your novel will renew interest in it?
Richmonders drive past the beautiful Monumental Church--designed by Robert Mills--on a daily basis, but I'd guess that less than half the city's residents know the church was built as a monument to the victims of the fire, or that the remains of those victims are buried in the church's crypt.
For about a century and a half, Monumental Church was an Episcopal church, but the church was deconsecrated in 1965 and is now owned by Historic Richmond, a nonprofit dedicated to the preservation and revitalization of the city's historic buildings, neighborhoods and spaces. Over the years, Historic Richmond has partnered with the Valentine Museum and other local organizations to host readings, lectures and special events about the fire, and I'm hopeful that this novel will inspire people to support the continued preservation of this historic landmark. --Rebecca Foster