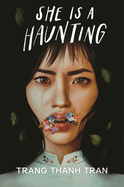 She Is a Haunting by Trang Thanh Tran is a grippingly macabre YA horror novel about the sinister hold of colonizers, the potential power of the ancestral dead and the labor of remaining oneself under malicious influences. It's a brilliant turn on the Southern gothic, using the racist relics, sweltering heat and decrepit villas of Vietnam to build a suffocating setting.
Seventeen-year-old Jade Nguyen is spending five weeks at her dad's house in Vietnam for one reason: get the college tuition money Ba promised. Then, get out. "You don't get a chance to try again," she tells Ba, remembering pre-divorce days being ignored by him. And she's fiercely protective of Lily, her 13-year-old sister, who came with her and who seems to Jade too eager to advocate for peace. Still, the pangs of nostalgia wear on her--when fishing like they once did every other weekend, when pressing hands into the freshly poured concrete of the patio and especially when eating his cooking: "the smell of crisp crepe, yellow with turmeric and heaped with glistening pork belly, shrimp, and bean sprouts, makes the acid simmer down in [her] stomach."
Ba, however, is focused on transforming his French colonial home into a bed-and-breakfast called Nhà Hoa, and his only expectation is that Jade build the booking website with his business partner's niece, Florence. "She's a distraction" but Jade can't resist flirting with the motorbike-riding, self-proclaimed boarding school delinquent. "She reminds me of something real," Jade thinks of Florence, "my neighborhood's concrete-broken streets and sunlight over the dashboard." It's Florence to whom Jade turns when Ba accuses her of lying about terrifying occurrences: waking up paralyzed, a darkly grinning white woman reflected in a window, a ghost warning "dừng ăn"--don't eat. "I am the girl who cried wolf, the liar" who Ba thinks is simply "ruining the fun." Jade is determined to prove Ba wrong and protect Lily. Jade's plan: haunt the haunted house. "I want to be terrifying, so much of a terror that Ba can't close his eyes." It's already been two weeks, after all; Jade refuses to walk away without getting anything from Ba, whether it's the money or the satisfaction of being right. Together, Jade and Florence stage signs of a haunting, writing mirror messages and planting hidden speakers to frighten Ba.
What truly disturbs Nhà Hoa, though, isn't a spooking by a restless spirit; it is an assault fueled by the still blazing malignity between Jade's ancestors and the cruel colonizers who employed them. As these remnants of the past--and Nhà Hoa itself--intensify hostilities, Jade battles to keep her sister safe, sleeping beside Lily and plotting to get them out. At night, Jade enters a limbo that is not quite dream nor memory. She is dropped into the volatile world of the house's first days--of the vicious white madame of the house and her animalistic treatment of her Vietnamese servant. When Jade wakes, she checks her teeth for bug legs and finds nail indents where a ghost has pressed her into the mattress. Faced with steadily increasing dangers, she must redouble her efforts to defend what she knows matters--"this place as ours, this place as healing"--or instead give the house what it now seems to want--her body.
Tran crafts a richly layered ghost story. The house itself is a character; its disquieting perspective in interluding chapters is chilling: "The house is tickled whenever a body's split between rooms.... Pliable meat and soft minds, tucked safely in its hold." Tran's clarion prose personifies Nhà Hoa's unsettling idiosyncrasies, such as "a large rib cage" of a ceiling, air that "caresses the back of [Jade's] neck" and floorboards that rasp and let out "phlegmy squeak[s]." Mutated zombie ants, writhing maggots and hordes of insect corpses augment Tran's skin-crawling atmosphere.
Tran also carefully portrays a fraught father-daughter bond. Years ago, Ba forbade Jade's bisexuality--"Girls like boys, you understand? That's it."--a blow that still pains Jade. "That hurt," she shares. "Your dad betraying you is one of the worst feelings in the world." Now, her earnest efforts to connect ("Con thấy ma"--Your child saw a ghost) are met with insensitivity ("Are you going to stand there and cry?"). Their unspoken desperation for the other's acceptance is tenderly and tactfully interwoven with their hope for the same from Vietnam. "I'm not Vietnamese enough to have an opinion on anything other than what makes a good bánh mi," Jade notes. Similarly, her father laments being seen as Việt Kiều--a term for Vietnamese people who "don't belong" because they lived overseas: "I remember our roots here. Why can't they see that?"
A feminine strength also underlies the book. When Lily gets her first period, Jade shares what she has learned, not the lies their mom told Jade--that "a girl's body is like a jar.... Once you open it, the inside's spoiled." Jade wants Lily "to stay unafraid of herself and savor the power in that." Florence and Jade similarly tackle stereotypes, joking about "final girls" in horror films or about the abundance of women ghosts in stories ("even dead, we're the scariest thing").
Amplifying all the paranormal problems is Jade's anxiety, a characteristic Tran smartly tucks into the moments between scares. "I'm so tired of being afraid of myself. The monsters I create. The anxieties I conjure." Jade is wholly aware of her intrusive thoughts and develops a routine of breathing and counting, yet she cannot always quiet them, especially in this house. "That's the thing, isn't it...? Sometimes, there might actually be something for you to be worried about."
She Is a Haunting is a spectacularly nightmarish YA debut that will entrap readers. It is shudderingly creepy, summoning easily to mind the ghosts, the house and Vietnam with arresting imagery. An achily enticing slow-burn sapphic romance and empowering feminist undertones round out this sharp and horrifying tale that will have readers wondering who is haunting whom--and who will remain in the hungry house. --Samantha Zaboski