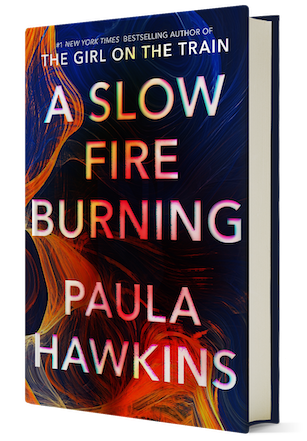 A Slow Fire Burning
Paula Hawkins
Paula Hawkins, bestselling author of The Girl on the Train, starts with a bang and never lets up in A Slow Fire Burning.
Miriam, who lives on a London houseboat, gets suspicious when the handsome young man moored next to her doesn't emerge for two days. She discovers him with a slit throat and calls the police. But she withholds evidence--a key she knows belongs to Laura, who works at the nearby launderette. Irene learns about the murder of Daniel (the corpse on the boat)--he's the son of Irene's fellow mystery-loving friend Angela, who fell to her death on the stairs of her home. Irene thinks: "Accidents do happen,... but mother and son, eight weeks apart? In fiction, that would never stand."
Hawkins's third-person narrative moves among her fascinating characters. She sets up Laura's slightly off perspective, Irene's intermittent surrender to forgetfulness, and possible reasons for the two deaths. This is a summer page-turner that will hold readers spellbound.