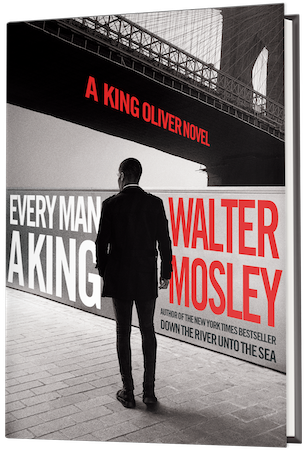 Every Man a King:
A King Oliver Novel
Walter Mosley
Joe King Oliver is back--the private investigator that Mystery Writers of America Grand Master Walter Mosley introduced in his Edgar award-winning Down the River unto the Sea.
A multi-billionaire friend of the family, Roger Ferris, asks King to look into the detainment of white nationalist Alfred Xavier Quiller, who's being held in jail at Rikers Island on charges of tax evasion, murder and "the sale of sensitive information to the Russians." King spent an unpleasant spell at Rikers Island himself, after being set up by a crooked fellow cop. Ferris wants King to find out if the charges are justified, while King's teenage daughter, Aja-Denise, asks him why he'd take on a case like this. Meanwhile, King's ex-wife calls on him to help free her investment banker husband, who's been arrested for an alleged heating oil scheme.
Mosley keeps the pages turning as King, with the help once again of Melquarth Frost, delves into issues of justice, equity and opportunity.