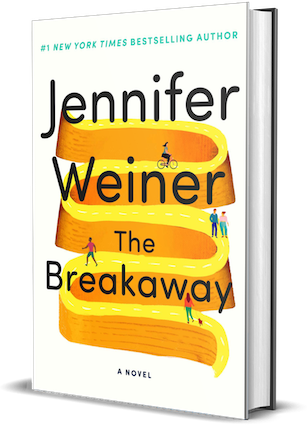 The Breakaway
Jennifer Weiner
Bestselling author Jennifer Weiner presents the ideal summer read--sexy, funny, and thought-provoking--about body neutrality, self-acceptance, and taking responsibility for realizing one's own dreams.
When Abby Stern learned to ride a bike at age seven, she began to break away from her "Flabby Abby" nickname. She was suddenly more than her appearance: she was free. Now 34 and still "Rubenesque," she's asked to lead a bike trip from New York City to Niagara Falls. Unfortunately, her mother registers. Abby believes she has "proportions that... dismayed her mother for as long as Abby could remember." The other surprise registrant: Abby's one-night stand from her friend's bachelorette party in Manhattan. The one she never forgot, even while she was with Mark back in Philadelphia, who seems like her perfect match. The two-week trip turns out to be full of surprises, most of all about what Abby learns about herself.
Weiner's fans will be thrilled, and she'll likely earn new ones.