Wisdom & Wit
Nora Ephron, novelist, humorist, essayist, journalist, playwright, Oscar-nominated screenwriter and movie director, died on June 26. She was 71.
She will be sorely missed.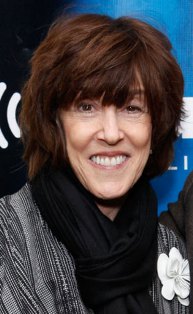 I first read Ephron's essays in the collections Crazy Salad and Wallflower at the Orgy. In her famous "A Few Words About Breasts," she said she was tired of women with big breasts complaining about them; they were being disingenuous--who wouldn't want an impressive bosom? She also wrote about an unacknowledged issue in the women's movement: the divide between beautiful women and the rest of us. She was funny about it, but while being smart and entertaining, Ephron was also incisive--a chronicler of life's truths wrapped in wit. She wrote about the contents of purses, Watergate, the Pillsbury Bake-Off, divorce, celebrity, pulling larger truths from the particular. In the past decade, she tackled maintenance.
"It's sad to be over sixty," she admitted in I Feel Bad About My Neck. Ephron had no truck with aging gracefully; she dealt with her neck issues by wearing cashmere turtlenecks, and devoted much time and money to her hair. Later, in I Remember Nothing, she took on memory loss: "I thought it might be fun to write a book about what I remember, and what I've forgotten. I still feel bad about my neck, but I feel even worse about the fact that huge bits of my life have gone slip-sliding away, and I thought I'd better write them down while I still had a sense of humor about it all."
Nora Ephron fans have their favorite quotes. One of mine is from her novel Heartburn:
"My mother was a good recreational cook, but what she basically believed about cooking was that if you worked hard and prospered, someone else would do it for you."
And this lovely line (Ephron said once that her religion was butter) spoken by Paul Child to Julia in the movie Julie & Julia:
"You are the butter to my bread, you are the breath to my life."
--Marilyn Dahl, book review editor, Shelf Awareness