No Required Reading
Summer really begins on the Fourth of July, and one of the best things about the this time of year? There's no required reading.
With young people, however, touting the thrills of pure pleasure reading can be challenging. Nine months of assigned books may have left a sour taste. Here are some sweet temptations to get them back on board.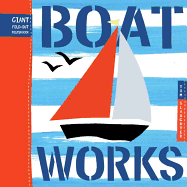 For youngest book-lovers, Boat Works by Tom Slaughter acts as a guide to ship-spotting oceanside or in the tub, while Traction Man and the Beach Odyssey by Mini Gray adds a layer of imaginary play to sand castle–building. Bink and Gollie: Two for One by Kate DiCamillo and Alison McGhee, illustrated by Tony Fucile, features the duo's hilarious adventures at the State Fair. Wumbers by Amy Krouse Rosenthal, illustrated by Tom Lichtenheld (reviewed below) may be a picture book, but for texters it doubles as a bounty of new, clever shortcuts.
Tua and the Elephant by R.P. Harris, illustrated by Taeeun Yoo, and Summer of the Gypsy Moths by Sara Pennypacker both make terrific read-alouds for the whole family. For kids who crave series, try The Extraordinary Education of Nicholas Benedict by Trenton Lee Stewart, illustrated by Diana Sudyka, a newly minted prequel to a terrific, smart series, and A Search for WondLa, which beautifully sets up the fantasy world for the second newly released adventure, A Hero for WondLa by Tony DiTerlizzi.
And speaking of another world, teens will take a flashlight to bed to finish Bitterblue by Kristin Cashore (reviewed below). If you enjoy mother-daughter reads, Between the Lines by Jody Piccoult and her daughter, Samantha Van Leer, may be just the ticket. Another riveting read, this one set against the backdrop of World War II, is Code Name Verity by Elizabeth Wein.
May your beach bags be filled with good books! --Jennifer M. Brown, children's editor, Shelf Awareness