Walking Under the Influence... of Books
"I stand up. I start walking. I'm still reading," writes Lev Grossman in "A Book Lover's Guide to Reading and Walking at the Same Time." I, on the other hand, never read books when I'm walking, and I walk a lot.
My reading and walking lives are still deeply connected, however. If I carried a "walking books" backpack, it would be stuffed with works like Cormac McCarthy's The Road, W.G. Sebald's The Rings of Saturn, Teju Cole's Open City and Rebecca Solnit's Wanderlust: A History of Walking, in which she observed: "It is the movement as well as the sights going by that seems to make things happen in the mind, and this is what makes walking ambiguous and endlessly fertile: it is both means and end, travel and destination."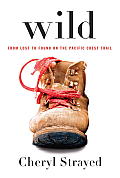 Cheryl Strayed's Wild: From Lost to Found on the Pacific Crest Trail became one of my walking books last fall, when I heard her say: "I went from weeping and wailing every day to confronting the reality of the hike. You set the boundaries, and every day you go out."
I'm always on the lookout for walking books on the publishing horizon, and look forward to reading The Old Ways: A Journey on Foot by Robert Macfarlane, The Walk by Robert Walser and Walking Home: A Poet's Journey by Simon Armitage.
"Walk wherever you are. Don't wait for the perfect forest path," advised Thich Nhat Hanh in The Long Road Turns to Joy: A Guide to Walking Meditation. His former student Claude Anshin Thomas wrote in At Hell's Gate: A Soldier's Journey from War to Peace: "When I'm on pilgrimage, I've often been asked, 'Why are you walking? What is your goal?' And I often respond by saying, 'I'm walking just to walk.' "
I'm reading in the same spirit. And I'm walking under the influence... of books. --Robert Gray, contributing editor, Shelf Awareness