National Reading Group Month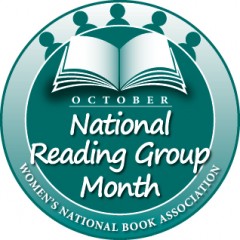 In connection with National Reading Group Month, which is sponsored by the Women's National Book Association and is designated for October, the Great Group Reads Selection Committee has chosen 19 novels and one memoir as this year's Great Group Reads. The titles, recommended for reading groups at bookstores, libraries, online and elsewhere, are:

The Absolutist by John Boyne (Other Press)
An Age of Madness by David Maine (Red Hen Press)
The Art of Fielding by Chad Harbach (Back Bay Books)
The Art of Hearing Heartbeats by Jan-Philipp Sendker (Other Press)
Blue Asylum by Kathy Hepinstall (Houghton Mifflin Harcourt)
Boleto by Alyson Hagy (Graywolf)
The Dovekeepers by Alice Hoffman (Scribner)
Equal of the Sun by Anita Amirrezvani (Scribner)
Faith by Jennifer Haigh (Harper Perennial)
I Married You for Happiness by Lily Tuck (Atlantic Monthly Press)
In the Shadow of the Banyan by Vaddey Ratner (Simon & Schuster)
A Land More Kind Than Home by Wiley Cash (Morrow)
The O'Briens by Peter Behrens (Pantheon)
The Orchardist by Amanda Coplin (Harper)
The Right-Hand Shore by Christopher Tilghman (Farrar, Straus & Giroux)
Running the Rift by Naomi Benaron (Algonquin)
Salvage the Bones by Jesmyn Ward (Bloomsbury USA)
The Snow Child by Eowyn Ivey (Reagan Arthur Books)
What Alice Forgot by Liane Moriarty (Berkley)
Why Be Happy When You Could Be Normal? by Jeanette Winterson (Grove Press)

The committee sought "under-represented gems from small presses and lesser-known mid-list releases from larger houses. All are books with strong narratives peopled by fully realized characters; books which perhaps have flown under the radar of reviewers and reading groups overwhelmed by the sheer number of new releases each year."