The Dark Horse
First-time author Domingo Martinez is a finalist for the 2012 National Book Award for nonfiction, for The Boy Kings of Texas. He's the only non-Pulitzer Prize-winning finalist in that category, and Lyons Press is the only "small" publishing house in that category.
In a starred review, our reviewer said the memoir is "concerned with the deep distress of a bordertown [Brownsville, Tex.] kid unclear on his place in the world. Martinez's story is heartrending and uncomfortable, but he maintains a surprising sense of humor that keeps his reader cringing and rooting for him."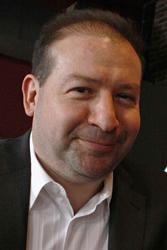 Martinez was surprised: "My phone started glowing around 6 a.m., and I happened to be awake. My first thought was, 'Wow; those bill collectors are starting much earlier nowadays,' and I ignored it because I didn't recognize the number, until it went off again about five minutes later and it was my agent, Alice.... I depend on her to translate most of what happens in this business because I'm so new at it, and I was registering some serious excitement, but I didn't know how to interpret it. I mean... it just wasn't computing that I was A FINALIST for THE NATIONAL BOOK AWARD. What's really funny is, when you read through that list, it's almost like the writers are putting question marks behind my name and book title, like 'Who the hell is this guy??' "
In a recent NPR interview, Martinez said, "If I stop to think about it, I might seize up. So instead, I'm reorganizing my Netflix queue.... The term 'dark horse' has been mentioned once or twice, and I have to chuckle. I wasn't even in the race two years ago. I wasn't even a horse, for that matter."
The National Book Award winners will be announced November 14 at a ceremony in New York. For the complete list of 20 finalists across four categories (fiction, nonfiction, poetry and young people's literature), visit nationalbook.org. --Marilyn Dahl, book review editor, Shelf Awareness