Epistles
Today's release of Carlene Bauer's debut, Frances and Bernard (Houghton Mifflin Harcourt) marks a new opportunity for readers to meet literary characters through their correspondence. As our reviewer noted, the 1950s setting lends itself to this epistolary form.
Thirty-five years ago Elizabeth Forsyth Hailey introduced Bess Steed Garner in A Woman of Independent Means, whose first letter in 1899 was to her fourth grade pal, later her husband. Her correspondence spans half a century and is rich in history (aboard the Lusitania, Kennedy's assassination). Bess was indeed ahead of her time, yet her letters flow from the pen of a proper lady, and this novel is a delightful peek at her era.
Ella Minnow Pea's island paradise is named after the man who wrote the iconic sentence using every letter: The quick brown fox jumps over the lazy dog. When the town leaders ban specific letters, one at a time, writing requires increasing cleverness in Mark Dunn's 2001 "progressively lipogrammatic epistolary fable," a cautionary tale to delight wordsmiths and Scrabble addicts. (Lipogram: a writing composed of words not having a certain letter.)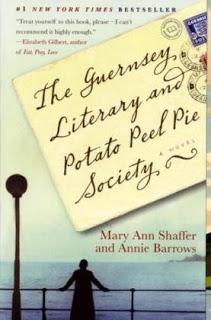 Peeking into a stranger's mail suggests a surreptitious intimacy, and Annie Barrows and Mary Ann Shaffer's beloved 2008 Guernsey Literary and Potato Peel Pie Society epitomizes the epistolary form. Letters and telegrams fly across the English Channel between author Juliet and the charming citizens of Guernsey, so recently deprived of communication during the World War II Nazi occupation of their island.
Agoraphobic Bernadette is lucky to live in a world of multiple means of communication that allow her to remain reclusive, including e-mail, school memos, NPR weather bulletins, police reports and tape recordings, all neatly linked by her daughter, tech-savvy teen narrator Bee, in Maria Semple's hilarious 2012 Where'd You Go, Bernadette.
While most 2013 communication might be via texts and tweets, reading these letter-writers could inspire you to purchase stationery and a sheet of forever stamps, just in time for Valentine's Day. --Cheryl Krocker McKeon, bookseller, Book Passage, San Francisco