Be My Valentine Books
I recently heard--or maybe made up to suit myself--that Valentine's Day was more unpopular than New Year's Eve, despite the cute cards ("yOu're just my typO") and crowded romantic restaurants. (Haven't made a reservation yet? Tough.) To be sure, any occasion that involves chocolate is not all bad; since chocolate graces the check-out counters in many bookstores, pairing it with books is a nice alternative to wilted flowers and crowded cafés, and might even sway people who say "Grrrrr" to February 14. Still, even the latter sort probably like a good romantic novel now and then, so we have some suggestions.
Me Before You by Jojo Moyes is the moving story of a curmudgeonly quadriplegic and quirky young woman hired to care for him, with an ethical question at its base. It's serious yet funny, and is romantic in spades. The same can be said for Truth in Advertising by John Kenney. At first, I thought it might be the funniest book I'd read in a while; then Kenney grabbed my heart as he told his tale about adman Finbar Dolan trying to keep up a façade covering a sad reality and feelings for a coworker. Both authors combine humor, tenderness and pain flawlessly into wonderful books. A box of tissues is advised, in a good way.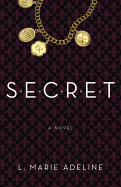 The Importance of Being Wicked is lighter choice, a romp featuring a spirited widow working secretly as an architect for her late husband's firm, and an attractive owner of a manor to be restored. Author Victoria Alexander has crafted a most pleasurable historical romance. Somewhat more wicked is S.E.C.R.E.T. by L. Marie Adeline, the first of an erotic series with a feminist bent: a secret society that empowers women through sexual encounters. Confidence, self-worth and independence are the goals. And fun.
A good book and chocolates. Flowers optional. --Marilyn Dahl, book review editor, Shelf Awareness