Learning to Make Things Up
A delight for mystery lovers is discovering a good writer with a good series. Brad Parks's fourth novel featuring New Jersey reporter Carter Ross, The Good Cop, has just been published by Minotaur and, as expected, is more than fine. His novels cover serious issues--drugs, house flipping and political corruption. The Good Cop deals with the illegal gun trade between Virginia and New Jersey. We asked him why. "As a reporter in Newark, I covered the devastation caused by illegal guns for years. I always knew those guns didn't come from New Jersey--gun control laws there are too strict. But I didn't understand how loose they were elsewhere until I moved south. It doesn't take much effort to buy a trunk-load of guns, file off serial numbers and drive up north--I-95 is called 'the iron pipeline'--to sell them."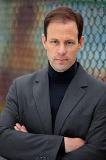 Parks added that, in a way, this is his first novel--as a career journalist, he had it seared into his soul not to make up stuff. "The first three books are based on stories I covered, and I wrote them like everything had to be double-sourced. This book deals with a real issue, but the story is invented. It took four books for me to realize a novelist is allowed to do that."
Parks's previous book, The Girl Next Door, was just nominated for the Lefty Award for the best humorous mystery of the year. In The Good Cop, Uncle Bernie and Gene are a particular riot. Parks said, "My characters are real people who just happen to live in my head (there's a lot of room up there). I can see them. I can hear them. So it's just a question of transcribing the interesting things they say when they start yapping." Adam Verner, who did the audio version (Dreamscape Media), told Parks he thought Uncle Bernie was quite possibly the most fun he'd ever had narrating a character. --Marilyn Dahl, book review editor, Shelf Awareness