Fun Summer Reading
As children and teens nationwide wind up the school year, they will leave with summer reading lists of "suggested" titles, possibly even a required number for completion by the time school resumes. But what about the books that give pure pleasure? Let's make sure they have some of those as well.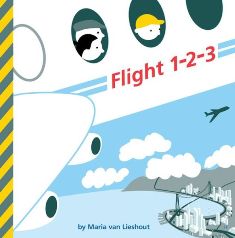 Flight 1-2-3 by Maria van Lieshout makes an ideal travel companion for families planning a trip by plane. High-contrast design elements serve as a legend that unlocks airport signs for luggage carts, elevators and the all-important rest rooms. Kids who like to get a bit more technical will welcome Jet Plane by David Macaulay.
For newly independent readers, the Critter Club series by Callie Barkley stars four friends who start an animal rescue in Amy and the Missing Puppy; their adventures continue in All About Ellie and Liz Learns a Lesson. Even 8- to 12-year-olds who don't refer to themselves as "readers" will madly turn the pages of The False Prince by Jennifer A. Nielsen and its sequel, The Runaway King. Four orphans, conscripted by a nefarious member of the royal court, "audition" for a chance to pose as a young prince presumed to have been killed by pirates. In Nobody's Secret, author Michaela MacColl imagines poet Emily Dickinson as a teenage detective solving a murder, and Doll Bones by Holly Black, illustrated by Eliza Wheeler, describes a role-playing game gone awry, with plenty of suspense and gothic overtones.
Gorgeous by Paul Rudnick (reviewed below) may well find its way into a few adult beach bags, too. Fans of Kristin Cashore's Graceling books will discover heroines just as smart and skillful in Robin LaFevers's novels, Grave Mercy and Dark Triumph. And teens searching for a gripping dystopia, in which an alien presence attempts to hijack the earth, will not be able to put down The 5th Wave by Rick Yancey. --Jennifer M. Brown, children's editor, Shelf Awareness