Fat Fall Fiction
Are books getting fatter? In 1988, Elizabeth George began her fabulous Inspector Lynley series with A Great Deliverance at a somewhat outstanding 400+ pages; her latest, Just One Evil Act (Dutton, $29.95, October 15), with DS Barbara Havers in a starring role, weighs in at 2.3 lbs. and 736 pages.
Rivaling George's novel in length is The Goldfinch by Donna Tartt (Little, Brown, $30, October 22), at 784 pages. Twenty-one years after her smashing The Secret History, this highly anticipated book is "an old-fashioned story of loss and obsession, survival and self-invention, and the ruthless machinations of fate."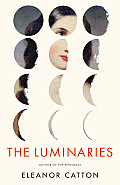 Surpassing both of those in length is The Luminaries by Eleanor Catton (Little, Brown, $27, October 15), at a hefty 848 pages. In 1866, Walter Moody, newly arrived in New Zealand, is drawn into a mystery involving unsolved crimes. More crimes appear in The Woman Who Lost Her Soul by Bob Shacochis (Atlantic Monthly Press, $28, September 3)--just 640 pages. His first novel in 10 years spans five decades, and ranges from World War II Dubrovnik to 1990s Haiti.
The Abominable by Dan Simmons (Little, Brown, $29, October 22) winds down at 672 pages. A tale of high-altitude death and survival set on the summit of Mount Everest in 1924, it's not just Everest that is the danger--three climbers (and a lady) are pursued by someone... or something.
One of Spain's most important contemporary novelists, Antonio Muñoz Molina, won the 2012 Prix Méditerranée Étranger for In the Night of Time (Houghton Mifflin Harcourt, $30, December 3), which clocks in at 656 pages. In October 1936, Spanish architect Ignacio Abel arrives at Penn Station, the final stop on his journey from war-torn Madrid.
Honorable mention must go to the almost-fat book that many have been waiting for: Doctor Sleep by Stephen King (Scribner, $30, September 24)--a mere 544 pages. What happened? --Marilyn Dahl, editor, Shelf Awareness for Readers