Tom Clancy, Storyteller Extraordinaire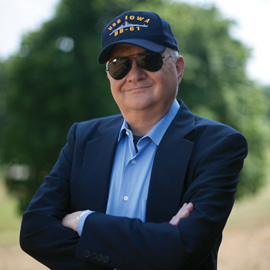 photo: David Burnett
Tom Clancy, who arguably created the genre of military-techno thriller, died Wednesday. He was 66 and was being treated in a Baltimore hospital for an undisclosed illness.
In the early 1980s, Clancy was an insurance agent in rural Maryland; he wrote The Hunt for Red October in his spare time. The manuscript was rejected by major publishers, which led him to approach the Naval Institute Press, in Annapolis, which had never published a novel. The Press took a chance with the book--and it was an immediate hit, helped in part by praise from President Reagan.
Clancy, whose subsequent books were published by Putnam, churned out blockbusters regularly, many featuring CIA analyst Jack Ryan, who first surfaced in Hunt for Red October. Some of his titles also became hit movies, including Hunt for Red October, Patriot Games and Clear and Present Danger. Clancy also set up a videogame company and became a part-owner of the Baltimore Orioles. There are more than 100 million copies of his books in print. Command Authority, another Clancy novel starring Jack Ryan, written with Mark Greanery, will be published December 3.
The Day recalled Clancy's loyalty to the Booksmith, the New London, Conn., bookstore that was the first to host an event by the unknown author. The late owner, Judy Reed, got an advance copy of The Hunt for Red October from a Naval Institute Press rep in 1984. "She and her husband stayed up, reading it that night," the Day wrote. "The next day, she told the publisher they wanted the author in their store--they knew they could sell this submarine-focused techno-thriller in southeastern Connecticut, home of the Naval Submarine Base and Electric Boat."
Clancy was so happy with his first event--at which he sold about 75 copies of his book--that he returned for signings of every new book. At his last signing at the store before it closed in 2000, he signed some 1,500 books. "On one level, I kind of owe it to them, and on another level, I come here for luck," Clancy told the Day.