A Magical Series
Kim Harrison is just about wrapping up her series The Hollows with the release this month of the 12th book, The Undead Pool (Harper Voyager, $27.99). Harrison is a demon at writing urban fantasy seasoned with action, mystery, romance and a dry wit. An example: witch Rachel Morgan's pixy, Jenks, hanging out on her earring, snarks, "All I'm saying is you've been dating him for three months. Most guys you date are either dead or running scared by now."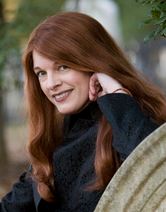 So how does Harrison feel about nearing the end (she's planning just one more in the series)?
"How does one sum up a decade of literary work, of plot snags and sudden inspiration, of characters' growth and layers of worldbuilding, of a writer's pure love for the process--because let's face it, writing is not for the lazy--and all in pithy sentences. Well... you can't. At least I can't, but when faced with the goal of bringing readers up to speed for the last couple of books, I found it was easier when I dropped into my main character's voice and let her tell the story. And with over 10 books to recap, it's turned into more of a Hollows Cliffs Notes than flashy action scenes and fade-outs of vampire fangs and magic intended to spark interest in movie producers.
"But it's a great way to remember where Rachel started, how she's seen her easy, black-and-white world turn colorful, her enemies become allies, friends show their true nature--both good and bad--and how complex are the problems she faces, that we all face. Rachel not only saves the world, but by the end of it, realizes out how beautifully chaotic and wonderfully messy that world can be, that there is no right or wrong way to do it, and to be what you are in celebration--always." --Marilyn Dahl, editor, Shelf Awareness for Readers
To view the The Undead Pool trailer, click here.