The Promise of Covers
Two recent covers caught my attention; the first pages backed up the covers' promise.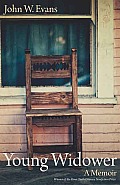 I picked up Young Widower: A Memoir (University of Nebraska Press, $19.95) because of the hushed, poignant cover photograph. John W. Evans lost his wife, Katie, in a "violent and sensational" way: she was mauled by a bear in the Carpathian Mountains. He writes about navigating grief, and begins, "The year after my wife died, I compulsively watched television. I needed distraction, to be entertained. [I was] about a mile from a strip mall where I could rent, in a pinch, midseason discs of The Wire, The Office, Friday Night Lights. I got to know the clerks by name, then by shifts, finally their tastes. Once, I tried to make a formal complaint against the corporate headquarters regarding the suspicious and perpetual absence of the fourth-season finale of Battlestar Galactica. It seemed unjust that the universe would conspire to deny my knowledge of its fictional origins. I worked up a good head of steam before leaving, distraught. I went back a few days later, during a different shift."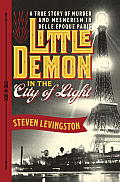 Little Demon in the City of Light: A True Story of Murder and Mesmerism in Belle Epoque Paris by Steven Levingston (Doubleday, $26.95). The prologue sets the stage explaining the fear of and fascination with hypnosis in the late 19th century; then: "In Paris in 1889, even murder was a form of theater. And what Michael Eyraud had cooked up was, to him, a brilliant bit of staging: a sexual farce with plenty of suspense and melodrama and then a tragic denouement. Eyraud's absurd plot highlighted his cockeyed view of himself. In his invented world he fancied himself a romantic, a flaneur at his ease strolling along the boulevards, a raconteur idling at Maxim's, a ladies' man, a conjurer who glided like the devil between the light and the dark. And pushed to the edge, he could kill with style."
Both books have proven to be riveting, elegant reads. --Marilyn Dahl, editor, Shelf Awareness for Readers