What to Give for Mother's Day (Books, of Course!)
Mother's Day is a grand occasion to offer to cook, to clean, to cater to mom (or mom-equivalent) while she relaxes with a book, like the ones in our reviews, below. But we never have enough room to review all the good books we get, so here's a few more.
A creative and environmentally friendly gardening book, Hellstrip Gardening: Create a Paradise Between the Sidewalk and the Curb by Evelyn J. Hadden (Timber Press) is a fine choice for both dreamers and doers. Hadden has ideas not only for that awkward (and presumably hellish) space between person and street, but also for medians, parking lot islands, community gardens--anyplace there is land to plant.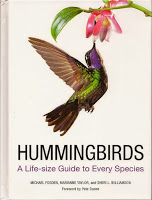 Hopefully, the gardens will attract hummingbirds. These beguiling creatures are showcased in Hummingbirds by Michael Fogden, Marianne Taylor and Sheri L. Williamson (Harper Design). Color photos of all 338 species of hummingbirds with flight maps, key information and (really!) life-size, full-color images.
More life-size birds--or almost-birds--are in The Book of Eggs: A Life-Size Guide to the Eggs of Six Hundred of the World's Bird Species, edited by John Bates and Barbara Becker, photographed by John Weinstein(University of Chicago Press). This lavish book devotes a page to each egg, with maps, habitat information and clutch (nesting) size. The prose is often charming: the Vermilion Flycatcher attracts mates by "bouncing across the sky, calling all the way."
Never Stop to Think... Do I Have a Place for This? by Mary Randolph Carter (Rizzoli) may be the ultimate book for collectors who want to show off their "beloved junk." An American flag made out of tin coffee canisters, myriad candlesticks, grain sacks as chair covers, colorful dishes, books, vintage military patches--it's all here, except for a helpful Swiffer collection. --Marilyn Dahl, editor, Shelf Awareness for Readers