Remembering Walter Dean Myers
Children's author Walter Dean Myers died on July 1, following a brief illness. He was 76.
Wherever Walter Dean Myers found grit, he wrapped his nacre around it layer by layer, and polished it into pearls.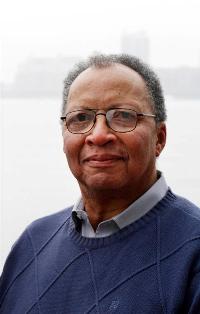 photo: Malin Fezehai
The community in which he grew up formed the backdrop for his picture book Harlem (illustrated by his son Christopher Myers), the poems of Here in Harlem, the stories in 145th Street and many others. He took his grief over his brother's death in Vietnam and paid him loving tribute in Fallen Angels, and showed war's ravages in Sunrise over Fallujah, set in Iraq, and in Invasion, set during World War II.
He took us into gang life in Scorpions, a Newbery Honor book, and inside the judicial system with Monster, the inaugural Printz Award winner. Monster grew out of Myers's work in prisons and juvenile detention centers, where he shared his own experience as a dropout (from Manhattan's prestigious Stuyvesant High School), and how books helped him turned his life around.
"It used to be that if a man had a strong back, he could find work," Myers said in a speech at the International Reading Association. "That's no longer true. You have to be able to read and write to find work." Myers believed "reading is not optional" long before he made that his platform as National Ambassador for Young People's Literature.
His recent essay in the New York Times challenged his peers in the field he loved: What more can we do for children of color? Where are we at fault? At the 2010 ALSC Institute, Walter described traveling by PATH train from Manhattan to his home in Jersey City. He noticed a teenager reading. "She was reading my book," he said. "Then she put it down. She was thinking. That's why I write."
Thank you, Walter, for your insatiable curiosity, your dissatisfaction with the status quo, and your devotion to young people. You will never stop making us think. --Jennifer M. Brown, children's editor, Shelf Awareness