Learning the Ropes at School
A child's comfort level at school is directly related to knowing what's expected. Often, it can feel like an alien place, as Sue Ganz-Schmidt's Planet Kindergarten so aptly describes, with illustrations by Shane Prigmore that depict classmates literally as aliens. Edda: A Little Valkyrie's First Day of School by Adam Auerbach (reviewed below) likewise depicts young Edda as a visitor from another civilization. Both books give first-time students a window into how to navigate an unfamiliar place.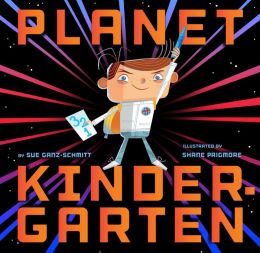 Other titles more directly introduce what a school day is like, such as Little Lola by Julie Saab, illustrated by David Gothard, in which the feline heroine is pleasantly surprised by what she discovers at school. Similarly, in Dog Days of School by Kelly DiPucchio, illustrated by Brian Biggs, a pooch ends up in class due to a wish by its boy owner; the dog does well enough, until the boy wishes to get back his old life. In Dinosaur vs. School, Bob Shea explains a few preschool guidelines--dinosaur-style. These three add comic touches through the creatures' perspectives.
For first-time bus riders, The Little School Bus by Margery Cuyler, illustrated by Bob Kolar (reviewed below), walks them through what to expect, and some simple safety rules. Back to School Tortoise by Lucy M. George, illustrated by Merel Eyckerman, delivers a twist: even teachers get nervous before the first day of school. Everyone's favorite canine pupil and his little yellow bird teacher inject humor into an al fresco schoolroom in Drop It, Rocket! by Tad Hills (reviewed below).
Two smart middle-grade novels that are also great for year-round entertainment: Al Capone Does My Homework by Gennifer Choldenko, and Escape from Mr. Lemoncello's Library by Chris Grabenstein. And an entertaining alternative to Kate Turabian as an indispensable guide to paper-writing, grammar and punctuation rules: Thrice Told Tales: Three Mice Full of Writing Advice by Catherine Lewis, illustrated by Joost Swarte. --Jennifer M. Brown, children's editor, Shelf Awareness