'A Teachable Moment'
The dispute between Amazon and Hachette, which shows once again that independent bookstores are the only booksellers who can be counted on to make all books available to readers, has continued into its fourth month--and gotten more heated.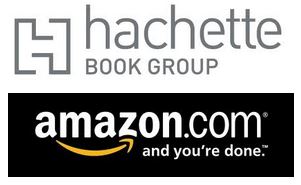 Last Sunday, the group started by author Douglas Preston called Authors United ran a two-page ad in the New York Times calling on Amazon CEO Jeff Bezos to stop targeting Hachette authors in an effort to force the publisher to agree to Amazon's terms. Signed by more than 900 authors, the ad states that it's just plain wrong for a bookseller to block the sale of certain books (even the Wall Street Journal has condemned Amazon's corporate behavior).
Amazon countered by creating something called Readers United, and sent a letter to Kindle Direct Publishing authors asking them to pressure Hachette. The letter reiterated the same arguments they've been using, but with a new twist: misquoting George Orwell. Amazon's citing, and misuse, of Orwell's words might lead readers to recall 1984 and think more closely about how the corporation uses its technology. This week, in a letter to the New York Times, Orwell's estate essentially called Amazon's approach Orwellian, saying that the company's selective quoting was "dystopian and shameless... as close as one can get to the Ministry of Truth and its doublespeak."
Many indie booksellers have responded creatively and positively, setting up special displays of Hachette titles, taking orders for upcoming Hachette books--and, in one case, making home deliveries of one book. It's been what Kris Kleindienst, owner of Left Bank Books in St. Louis, Mo., called "a teachable moment" for booksellers. "It's tapped into folks who have never really thought about this."
The major lesson to be learned from this contretemps: shop locally. As author John Scalzi says, "Companies trying to drive the market toward monopoly rarely are on the side of the consumer in the long run." --Marilyn Dahl, editor, Shelf Awareness for Readers