An Unforgettable Woman
Laird Hunt's Neverhome (reviewed below) is the story of an unforgettable woman, Ash Thompson, who joins the Union army during the Civil War. Her comrades know Ash as "a slight man, handy with a rifle." Hunt uses Ash's powerful voice to make the nightmare of the war tangible: "You couldn't see the colors, you would have thought it was a mirror. Like the central job of it was we were fixing to fire at ourselves."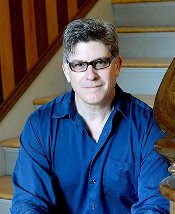 Laird Hunt
We spoke to Hunt about his remarkable novel, and asked about Ash's precise, vivid voice: she "sewed at it until the stitch stayed shut"; "An inch or two before dawn"; "she was fierce happy." Hunt said, "I was very careful not to write her voice the way voices were reproduced in fiction of that time, so I read numerous journals and letters from the Civil War period. I also used some of my grandmother's turns of phrase when she reminisced about her grandparents. She was born on an Indiana farm; I lived there with my mother through my adolescence. She informed my ideas of Ash's mother--a totemic figure, fiercely present." As is Ash.
About a man writing about a woman, he said: "I had a chance to be flexible and inventive--I'm a stranger in a strange land. And I started to hit my stride when I began investigating these central issues of our national psyche, which are still unfurling."
Most of books about the Civil War are told from the "romantic" Southern side; we asked why he chose the "prosaic" side. "It was essential to me to write about the Union army--my ancestors were Union soldiers. Much of the Northern story has been erased in our minds and our history." Along with his family's history, he did extensive research, defty avoiding "the trap you can fall into--re-creating every historical detail until you lose the reader; you want to swim in the times, not drown in them." --Marilyn Dahl, editor, Shelf Awareness for Readers