Literary Self-deception
I always look forward to our Book Brahmin author questionnaire series, but I have to keep myself from skipping ahead to one question: Book you've faked reading. Some people claim they never do it, but I love the brazen responses the most. Moby-Dick gets cited often, as does Ulysses. I have read neither and haven't lied about it, but I suffer from a different (related) problem.
Good editors know a little about a lot of things. It helps us ferret out suspect spellings or facts. We're great at pub trivia. In my life, I've learned the plots and merits of many books I've never read, movies I've never seen--but sometimes that leads me astray.
Like many children, I owned a boxed set of the Chronicles of Narnia. I held those books in my hands, read the backs, marveled at the illustrated covers. I never actually read them; I knew just enough about them to be useful, and years of proximity and vague familiarity led to tricking even myself. When I said I'd read them, I no longer realized I was lying. (Don't worry, I have since reconciled my imagined reality with actual reality.)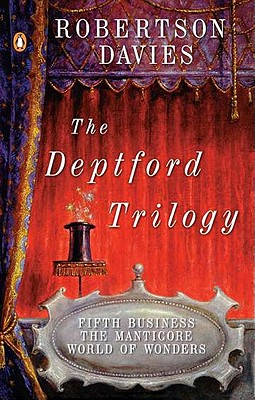 In high school, a friend's mother lent me her massive volume of the Deptford Trilogy by the great Robertson Davies. I read the first two novels, which was enough for me to laud the set as one of my favorite literary works. The other night, I read a summary of the series and only then did I realize that I'd never read the third book in the trilogy, World of Wonders, though over the decades I've persuaded myself I have.
I still have my friend's mother's copy (oops), so that's my meaty fall read. In my case, the question is more accurately "Book you convinced yourself you've read," and it's always worth actually turning the pages once I realize my mistake. --Heather Young, associate editor, Shelf Awareness