Gift Books: Music
Like last year, 2014 has been good for music books, particularly as musicians of a certain age decide it's time for a memoir (or a biographer decides for them). Illustrious guitarist/vocalist George Benson has, with Alan Goldsher, written George Benson: The Autobiography (Da Capo, $25.99), an account that will have you humming "Masquerade" while you read. David Ritz has written more than 50 books, many of them as ghostwriter for musicians. After collaborating with Aretha Franklin for From These Roots, he has come out with an unauthorized biography--Respect (Little, Brown, $30), a dramatic and definitive study of the Queen. Listening to Aretha, from "Chain of Fools" to "Nessun Dorma," is a must go-with.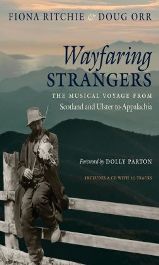 No need to seek out music for Wayfaring Strangers: The Musical Voyage from Scotland and Ulster to Appalachia by Fiona Ritchie and Doug Orr (UNC Press, $39.95)--it comes with a 20-track CD. Over a span of centuries, Scots-Irish immigrants brought traditional ballads to Appalachia, merging their musical heritage with those of African-Americans, French and others. A more recent past comes from critic Greil Marcus in The History of Rock 'n' Roll in Ten Songs (Yale University Press, $28). He has a unique slant on rock, writing not just about the iconic but focusing on what he considers important; as always, Marcus thinks outside the record sleeve.
Hunter Davies, true to his name, has ferreted out more than 100 original handwritten documents for The Beatles Lyrics (Little, Brown, $35). They are reproduced here, along with the history of each. James Spada has collected tons of photographs for Streisand (Abrams, $40); there is some text, but the draw is definitely the photos spanning her illustrious career.
For serious jazz nuts, there's Uncompromising Expression by Richard Havers (Chronicle, $85), a chronicle of Blue Note, the definitive jazz label, that commemorates its 75th anniversary. Albums covers, liner notes, ephemera from the archives. Cool. --Marilyn Dahl, editor, Shelf Awareness for Readers