Voyages of Discovery
Today, Erik Larson's new book, Dead Wake, about the sinking of the Lusitania, um, launches. (We have a lot of information about the book and Larson below.) It's a striking accomplishment: Dead Wake is the latest of an outstanding series of nonfiction titles by Larson that are historically solid yet read like thrillers.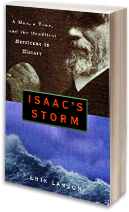 Isaac's Storm focuses on Isaac Cline, a weatherman during the Galveston hurricane of 1900, which killed at least 6,000 people and destroyed the city. Besides harrowing accounts of death and destruction, in Larson style, the book offers lessons about the unusual topography of the Gulf of Mexico and the development of the art and science of weather prediction.
The Devil in the White City, set in Chicago during the 1893 World's Fair as the second city shows its resilience following the ruinous fire of 1871, weaves together the stories of Daniel H. Burnham, the architect behind the fair, and Dr. H.H. Holmes, who killed possibly as many as 200 people a few miles from the fairground in his "murder castle."
In Thunderstruck, Larson focuses on an unlikely American murderer in England named Hawley Crippen and on Guglielmo Marconi, who invented wireless communication. The book features a riveting chase scene as Crippen tries to flee across the Atlantic with his lover disguised as a boy--and they are intercepted off the Canadian coast because of information transmitted via Marconi's invention.
In the Garden of Beasts takes place mostly in Berlin in the early years of the Nazi period, focusing on William E. Dodd, the first U.S. ambassador to Nazi Germany--who quickly had a sense of the nastiness of the new regime--and his daughter, Martha.
All are wonderful books from an author who's both entertaining and educational. Larson has already embarked on a 24-city tour to promote Dead Wake. Catch him if you can! --John Mutter, editor-in-chief, Shelf Awareness