After the Deluge
One minute we were posing for photos with Minnie Mouse; the next moment we returned home from Disney World to find two feet of water due to a burst pipe. We had to leave the house for five weeks so the entire first floor could be gutted.
We were lucky. My parents have extra room so we didn't have to wedge my family of four into a single motel room. The downside? They spoil their grandkids at every turn and let them eat chocolate-covered donuts. And Fox News is always on full blast.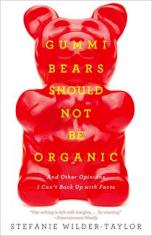 Which is why reading Stefanie Wilder-Taylor's Gummi Bears Should Not Be Organic (Gallery Books, paperback, $15) was a lifesaver in my attempts to avoid sugar-crazed children and the latest political debate playing out on TV. I could have been crying over a frustrating situation; instead, I was laughing maniacally at Wilder-Taylor's (Naptime Is the New Happy Hour) hilarious take on modern-day parenting. I was cackling so loudly at her description of wearing the same yoga pants for several days (without doing any yoga) and her side-splitting take-down of parents who insist their children are "highly gifted" that I nearly drowned out O'Reilly. Hers is a voice that cuts through all of the pressure of parenting (the healthy snacks! the competitive fundraising!) and says, "Everybody chill! And eat a sleeve of Thin Mints if you need to."
In this book, Wilder-Taylor smashes the impossible ideal of the perky mommy who has boundless energy to make educational crafts with her kids while still squeezing in her own workout. Wilder-Taylor's genuineness provides relief as she admits that the reality of parenting, though obviously profound, is equally exhausting.
As I tried in vain to prevent my mother from dispensing yet another donut to my children and as I desperately missed my privacy, I thought, "What would Stefanie Wilder-Taylor do?" I calmed the heck down and ate one myself. --Natalie Papailiou, author of blog MILF: Mother I'd Like to Friend