Never Too Early (or Too Late) for Comic Books
Graphic novels--comics!--are having their day in the sun. Cece Bell's El Deafo (Abrams) won a 2015 Newbery Honor, as did Victoria Jamieson's Roller Girl (Dial) in 2016. Our new National Ambassador for Young People's Literature? Graphic novelist Gene Luen Yang. Here, Shelf Awareness handpicks some 2016 favorites from the colorful world of comics.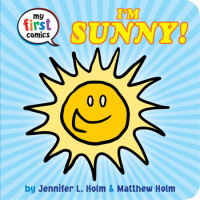 Jennifer L. Holm and her brother Matthew Holm, the team behind Babymouse and Squish, launch their My First Comics series with two board books about feelings: I'm Sunny! and I'm Grumpy (Random House). As the author posted on Nerdy Book Club, "Comics do a great job of teaching the building blocks of reading in a visual way. Children can learn inference by studying the pictures. They learn about dialogue because they can 'see' it in a speech bubble. They learn to navigate left to right on the page. They start to understand human emotions visually."
We sing its praises from the crow's nest: Jessica Young and illustrator James Burks's early chapter book series Haggis and Tank Unleashed (Branches/Scholastic) debuts with All Paws on Deck, the entertaining story of two dogs who embark on an imaginary pirate adventure. Puns, ahoy! Children ages 5 to 8 will never forget the difference between a desert island and a dessert island.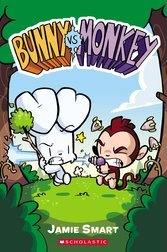 British author-illustrator Jamie Smart's milk-snortingly funny Bunny vs. Monkey (David Fickling/Scholastic) for ages 7 to 10 is an irreverent, over-the-top comic series debut about an egomaniacal monkey who crashes from space and decides to rule the woods as emperor of Monkey-topia. Add Skunky, a genius inventor who builds the giant Mole-a-Rolla, to the mix and watch the bumbling woodland animals scramble for power.
Sara Varon's expanded edition of Sweaterweather (First Second/Roaring Brook)--also featuring animal characters--is a fascinating glimpse into her creative process for ages 8 and older.