Life of Pie
Roy Blount, Jr., is smart and witty, no matter what subject he tackles (from football to travel to literature), and his new book, Save Room for Pie: Food Songs and Chewy Ruminations (Farrar, Straus & Giroux) adds to his stature as an absolute delight.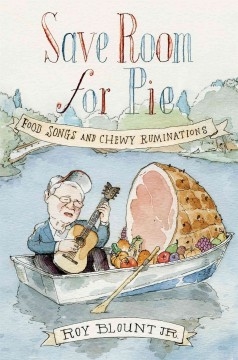 Take his rumination on pie: "Save room for pie. Pie being the highest form of food.... One's room for pie is like one's capacity for love, in this sense: few life-affirming people underestimate their own." His codicil to his rule about eating gravy--"Eat less gravy than you want. Wait--consider this: you can't, possibly, eat as much gravy as you want."--states, "After five potato chips you are just trying to reclaim the glory of the first two--and you know it." Lest you think Blount is all about "bad" food, he likes kale, "And it's healthy, which is fine with me."
He writes songs about oysters, catfish, bacon ("The smell of it cooking's worth two bucks a pound"), catsup, decent pizza and drink ("I know it is wrong, it gets out of hand/ I don't recommend it, isn't it grand?"). He deals with okraphobia, he goes to Japan, he lauds the importance of bees.
Julia Child famously said that with enough butter, anything is good. Blount agrees:
Bananas are yellow in their season.
Butter is always. And better on peas, on
Toast, on corn bread, on corn on the cob.
A baked potato begins to throb
With life, with juice when butter melts.
Down, down into each crevice and...
Oh! Nothing melts
Melts the way butter melts.
Truer words were never uttered:
Anything good is better buttered.
He returns often to pie. When I was little, I painstakingly wrote a school "paper" about Thanksgiving: "We. Turkey. Pie. Eat." Blount and I are in agreement: "Apple and pumpkin and mince and black bottom, I'll come to your place every day if you've got 'em. Pie."