Anatomy of a Soldier
In Harry Parker's unconventional debut novel, Anatomy of a Soldier (Knopf), Captain Tom Barnes, aka BA5799, is leading British troops in a war zone. Here there are two boys and a man who trains boys to fight the infidels; here and back home are medical teams; at home are families and friends. Parker, a veteran of both Iraq and Afghanistan, tells their stories through 45 narrators, all inanimate objects, beginning with Barnes's ID: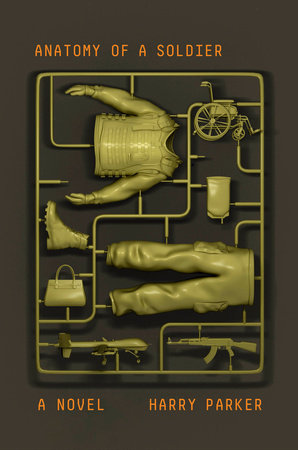 "My serial number is 6545-01-522. I was unpacked from a plastic case, pulled open, checked and reassembled. A black marker wrote BA5799 O POS on me and I was placed in the left thigh pocket of BA5799's combat trousers. I stayed there; the pocket was rarely unfastened." Unneeded for eight weeks, two days and four hours, until lifted into the sky in dust and confusion. "I was on the ground beside him... I was beside him as rocks and mud fell around us. I was in the dust as a dark red liquid zigzagged towards me over the cracked mud.... I clung to him while he was lifted onto a stretcher… as we flew low across the fields and glinting irrigation ditches and the wind rushed around the helicopter, when he pleaded with God to save him and metal pads were placed on his chest and his body jolted.... I was there when they hung the bag of blood above BA5799 and they cut the remains of his leg away." When BA5799 no longer needed 6545-01-522, "I was at the bottom of a surgical bin and then I was burnt."
The story continues through, told by a bag of fertilizer: "I waited in that dark room until I was opened and used"; Chinese knock-off trainers ("alien among a sea of worn leather sandals"); a breathing tube; BA5799's mother's purse; a fungal spore; a gun; a wheelchair; snow; an IED ("trashing all that should be sacred"); a prosthetic leg: "You pressed your stump into me and we became one for the first time."
Harry Parker's novel is a stunning concept, with stunning execution.
See the Telegraph's interview with Parker here.