Elie Wiesel, 1928-2016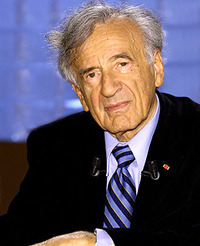 Elie Wiesel
Elie Wiesel, "the Auschwitz survivor who became an eloquent witness for the six million Jews slaughtered in World War II and who, more than anyone else, seared the memory of the Holocaust on the world's conscience," died Saturday, the New York Times reported. He was 87.

Wiesel, who wrote several dozen books and in 1986 was awarded the Nobel Peace Prize, "was defined not so much by the work he did as by the gaping void he filled.... [B]y the sheer force of his personality and his gift for the haunting phrase, Mr. Wiesel, who had been liberated from Buchenwald as a 16-year-old with the indelible tattoo A-7713 on his arm, gradually exhumed the Holocaust from the burial ground of the history books."

Night, the 1960 English translation of his autobiographical account of the horrors he witnessed in the camps as a teenage boy, has sold more than 10 million copies, "three million of them after Oprah Winfrey picked it for her book club in 2006 and traveled with Mr. Wiesel to Auschwitz," the Times wrote, adding that it was followed by novels, books of essays and reportage, two plays and even two cantatas--"an average of a book a year, 60 books by his own count in 2015." His Night Trilogy includes Dawn and Day.

President Obama, who visited the site of the Buchenwald concentration camp with Wiesel in 2009, said Saturday: 'He raised his voice, not just against anti-Semitism, but against hatred, bigotry and intolerance in all its forms. He implored each of us, as nations and as human beings, to do the same, to see ourselves in each other and to make real that pledge of 'never again.' "