In Praise of Soup
Betty Rosbottom's cookbooks (American Favorites; Sunday Casseroles) skew toward the homey and practical, just what we need as the days get shorter and the nights darker. She tells us why soup is important:

When it comes to soup, you can definitely label me a serious fan, a true aficionada. In 2008, I wrote Sunday Soup, my first book that featured soups, and for the past two years, I've dedicated myself to that subject again to create recipes for my latest book, Soup Nights (Rizzoli).

Why write about soups again? Because they are undeniably comforting, often providing us with warm memories of family and home. They are also endlessly versatile and easy to assemble. Add to this their make-ahead possibilities, plus the fact that they tend to be inexpensive, and you can see why soups are a mainstay in every major world cuisine. In short, soup making is a simple art that happens to fit effortlessly into our hectic lifestyles today.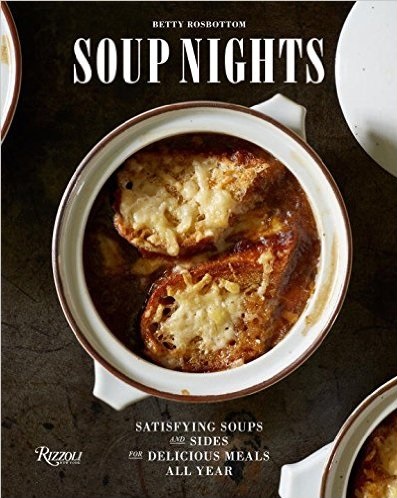 Soup Nights offers all sorts of culinary adventures: some are perfect for vegetarians, others focus on fish (bouillabaisse and gumbo), and many highlight nutrient-rich beans and grains (barley, quinoa, lentils and beans of varying hues). You will also find hearty, richly flavored options, such as classic onion soup gratiné to counter weather's chill, as well as cooler choices, like an icy cucumber Vichyssoise, for sweltering days.

But one cannot live by soup alone. So I also include recipes for seasonal salads and inventive sandwiches--natural partners for soups--as well as for never-to-be-forgotten desserts.

My hope--as author and cooking teacher--is that Soup Nights will encourage readers to select soups as the centerpieces for their meals. Rather than picking up another roasted chicken at the supermarket or reaching for the phone to order pizza or pad Thai, a "soup night" can be almost as easy, undoubtedly more memorable and immeasurably more satisfying!