The Magic Number Three: V.E. Schwab's Shades of Magic Trilogy
Successful trilogies are tricky. And fantasy trilogies? Even more so. Requirements include a robust world with just the right amount of imaginative detail to urge the reader on rather than too much, which leads to retreat. Living, breathing characters who beg to be explored. And a plot that doesn't sag in the middle or disappoint in the end. A tall order, to be sure. And V.E. Schwab, author of the Shades of Magic series, delivers with skillful, epic ease.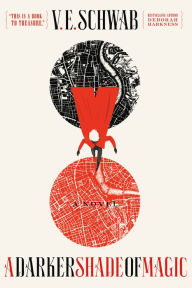 Four alternate Londons (Red, Black, Grey, and White) exist in A Darker Shade of Magic (now in paperback from Tor). Kell, one of the last Travelers--magicians with the ability to travel between parallel universes--encounters accomplished thief Delilah Bard, whose desire to leave Grey London is as dire as Kell's need to escape the consequences of his smuggling side-job. Adventure beckons, and Schwab's smart, exhilarating story doesn't let go until the very end. And, not even then.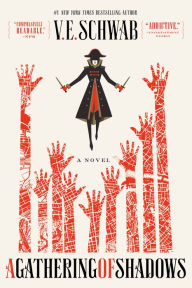 Set four months later, A Gathering of Shadows (Tor paperback) finds Kell learning to live magically bound to another, Delilah unleashing her talent for magic, and an international magical competition taking place. The nuanced world-building and agile characterization begun in book one continue here, proving an addictive concoction when paired with the innovative adventure.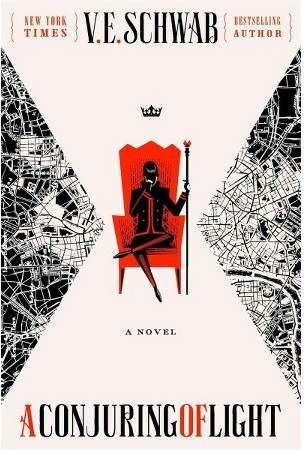 The final book in the series, A Conjuring of Light (coming next month in hardcover from Tor) picks up mere minutes after the ending of book two, when the tenuous tie among the four Londons has reached a breaking point. Kell and Delilah are called upon to save the magic that's shaped their very lives. And while heeding the call comes naturally, the real question is, will they be able (and willing) to answer? Readers may wish for the quintessential happy ending. But Schwab writes the conclusion that each character needs--one that rings true while simultaneously breaking and mending your heart. --Stefanie Hargreaves, editor, Shelf Awareness for Readers