My Bookstore: 'A Love Letter to Indies'
In 2012, Black Dog & Leventhal (one of our favorite names for a book publisher) published My Bookstore: Writers Celebrate Their Favorite Places to Browse, Read, and Shop, a tribute to independent bookstores by 84 well-known writers. Edited by industry veteran Ronald Rice, illustrated by Leif Parsons and with a foreword by author Richard Russo, the book included essays by, among others, Fannie Flagg, John Grisham, Isabel Allende, Dave Eggers, Wendell Berry, Henry Louis Gates, Jr., Lisa See and Erin Hildebrand.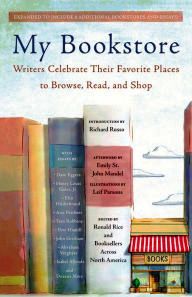 Sometimes funny, often entertaining and always heartfelt, their contributions emphasized something readers may not be aware of: the many ways that indie bookstores are crucial to writers, particularly as they begin their careers and need help introducing their work and themselves to readers. In addition, indies keep established writers connected with their readers and with the wider book world. Bookstores also help writers in the same way they do other customers: introduce them to books and authors they wouldn't know about otherwise, and offer them all the activities, services and charm that indies provide.
Earlier this month, My Bookstore was released in paperback; this updated edition features contributions from nine more writers and an afterword by Emily St. John Mandel. This version is timed to appear in connection with the third annual Independent Bookstore Day, which takes place this coming Saturday, April 29. My Bookstore offers book lovers a great opportunity to read more by their favorite writers, and about their favorite bookstores.
Editor Ronald Rice commented: "The new edition comes at a time when I see a bumper crop of new independent bookstores opening. I'm very encouraged. I hope the book is a legacy of the spirit and vital importance of independent bookselling." He also called My Bookstore "a love letter to the indies," a description and sentiment we embrace--in a variety of ways.