Writers Without Borders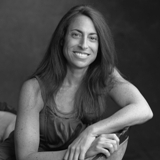 Society likes to categorize its art. Why? Better to market it, I think. But how many people hate country music, yet love Patsy Cline? Find romantic comedies dreadful but adore When Harry Met Sally? Shun science fiction but are fascinated by Philip K. Dick?
Our culture has a hard time dealing with writers, musicians and filmmakers who exceed the limits of their genre, so we've come up with the "crossover artist" to explain such inconvenient breaking of barriers.
When I set out to write Point, Click, Love, a novel about love and relationships in the digital age, I knew it would be placed in the "chick lit" genre, and I'm perfectly happy to embrace that moniker. Readers of this genre are voracious, loyal and discerning. But I wanted to be one of the crossovers--someone who shatters the mold.
Maybe it's because I fancy myself a person of incongruous tastes. I've read every novel by Edith Wharton and have watched all 23 seasons of The Bachelor/Bachelorette. It's hard to say which I enjoy more, a gleaming red slab of toro tuna or a McDonald's Filet-o-Fish sandwich. And I can recite both the expansive field of Republican presidential candidates and the full cast of The Brady Bunch.
Writers love positive reviews no matter the source, but I particularly treasure those coming from the unlikeliest of fans. Like the D.C. policy wonk who tired of reading about the internal workings of the Chinese Communist Party so devoured Point, Click, Love in a single day and said he "loved it like a banana split." Or the cultural theorist who called it "a social critique of American society and a media analysis of the virtuality of online life." And, of course, the guy's guy who appreciated "getting a peek into the mind of women."
A writer who manages to build a loyal fan base is truly blessed. But I think all of us enjoy the moments when we defy people's expectations and make them like something they never thought they could. --Molly Shapiro, author of Point, Click, Love