The Envelope, Please...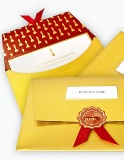 No matter who wins Oscars this coming Sunday, books will be winners. That's because this year even more than usual, nominations in a variety of categories involve movies based on books. For best picture, for example, six of the nine nominees are adapted from books, and another, Woody Allen's Midnight in Paris, stars several literary figures from the 1920s, including Gertrude Stein, Zelda and Scott Fitzgerald, T.S. Eliot and Djuna Barnes. (In the movie, Corey Stoll offered a masterful portrayal of Ernest Hemingway.) It's enough to make you wonder what would happen to the movie business if books vanished. For an annotated list of this year's many book-related nominees, click here.
While many moviegoers try to catch up on the nominated films in the week before the awards, it's also a good time to catch up on--and celebrate--the books that provided such fertile ground for Hollywood last year. One bookstore, Encore Books in Yakima, Wash., has a kind of warmup contest for fans of both books and movies. With polls open through Saturday, the contest focuses on the books behind the movies in six Oscar categories--voters cast ballots for books and characters based on the books, not the movies.
This year the adaptations were generally well done, so that fans of the books needn't cringe at the film versions. A very happy Kaui Hart Hemmings, author of The Descendants, who apparently connected with producer and screenwriter Alexander Payne, told the Independent: "Almost every line of dialogue was right out of the book, every sequence, the music I'd mentioned, the clothes they wore, the places they went to." For more on her experience and the mixed results of other authors whose books were made into movies, click here.
So this Sunday evening, do enjoy the books--and the movies. But first a moment of silence for Damien Bona, the co-author of Inside Oscar: The Unofficial History of the Academy Awards, who died last month. A delightful handbook of Oscar trivia, the book has gone through several editions but, as far as we know, not sold film rights. --John Mutter