Celebrate Indies!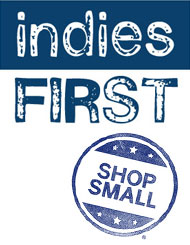 Tomorrow is an exciting, busy day for independent booksellers across the country: it's both Indies First, when authors, readers and publishers join to show their support of indie bookstores, and it's Small Business Saturday, the national event that focuses on the value of local businesses--including independent bookstores--in creating jobs, boosting the economy and enhancing neighborhoods.
Now in its sixth year and organized by the American Booksellers Association, Indies First features a variety of events, particularly the tradition of authors working for a few hours at their favorite indie bookstores. (Imagine having your favorite authors recommend titles to you in person!) Many stores have other events, too. Check your favorite indie to see how they're celebrating.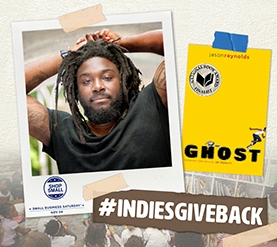 For the second year in a row, award-winning author Jason Reynolds is the 2018 Indies First spokesperson. "Bookstores benefit their communities in a myriad of ways, and I'm thrilled that I get to sing their praises for another year," he says. As part of the "Indie Bookstores Give Back on Small Business Saturday" campaign, many indie stores are giving copies of Reynolds's middle-grade novel Ghost to young readers in low-income communities, helped by Reynolds, the ABA, publisher Simon & Schuster and American Express, main sponsor of Small Business Saturday.
Among the many authors who are participating in Indies First is poet and professor Ross Gay, who earlier this month wrote an essay called "The Laboratory: Delighting in Independent Bookstores." (The print version is available as a PDF while Gay's reading of it can be seen on YouTube.) In the essay, he wrote, "A good bookstore is your friend. And I hope you're a good friend to your favorite independent by supporting them on Small Business Saturday."
Wise words indeed. Tomorrow do celebrate your favorite indie bookstore and all that indies stand for!