The Thriller Guy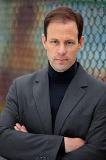 Do you ever get tired of the Thriller Guy?
You know the one. Square jaw. Steely eyes. Can shoulder a Smurf & Winsome Semi-Automatic 15XZ Hippoblaster (err, y'know, whatever) and make a kill shot from 1,500 meters.
Or how about the Broken Guy?
You know him, too. Busted marriage. Ruined life. Drinks double-shots of 180 proof whiskey so he can escape the weight of the heinous crime his father committed three decades ago.
As a lifelong crime fiction fan, I certainly knew these guys.
But I never felt like I had bumped into one at the grocery store. So when I got inspired to write a novel--loosely based on a quadruple homicide I had covered as a newspaper reporter in Newark, N.J.--I wanted to make my protagonist a character the rest of us could relate to.
Enter Carter Ross, a white boy from the suburbs with a happy childhood, a boring haircut and a bare minimum of emotional baggage. His favorite color is khaki. His favorite flavor--not to mention his lifestyle --is vanilla.
I've still taken this Everyman and thrown him into some sticky wickets. Newark is, after all, a city where crime has been known to occur and New Jersey is a state that has, once or twice, been visited by organized crime and corruption.
But through three books--with more on the way--Carter has faced those things with a good sense of humor and a skill set that's a little more familiar most folks. No exotic martial arts. No fancy weaponry. Just a notepad, a ballpoint pen and enough sense to realize he was going to have to use brains rather than brawn to survive.
After all, he's got to hit the grocery store on his way home. --Brad Parks, whose latest Carter Ross thriller is The Girl Next Door (Minotaur).
See our review below.