Poems: A Collection of Heartbeats and Snapshots
When I was young, my mother had a thin paperback book by Mahmoud Darwish called A Lover from Palestine, English translation on one page, original Arabic on the facing page. As a child, I read the poems only in English; when I was older, I studied the collections of words in both languages, going back and forth from one page to the other as though they were puzzles that needed solving. I loved how so few words strung together could paint a picture and make me feel loss and sadness and beauty and love. In spite of my deep liking of this particular set of poems, as an art form poetry baffled me (both the reading and the writing).
On a whim, the summer before I started graduate school I signed up for a poetry writing class. My teacher was a tall, thin man a few years older than me who went swimming every morning and arrived to class smelling of chlorine and cigarettes. Originally from Kentucky, he said the word "poem" as though it had only one syllable and he talked at length about baseball and loss. "Poems are stories for people with short attention spans," he told us. This I understood.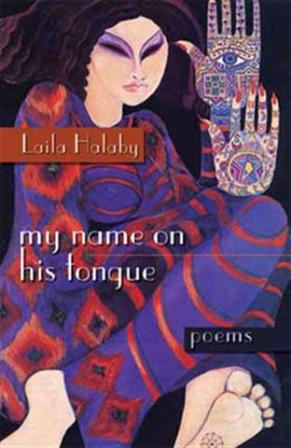 Since that long ago summer when the late Joe Bolton taught me how to read, understand and spill poems, I have channeled my writing (and reading): poetry for the more immediate stories, those that demand raw descriptions, shouts, moans, or riotous giggling; short stories or novels for the more drawn-out tales, those that need deeper exploring. my name on his tongue is a memoir in poems, a series of tiny stories, a collection of heartbeats and snapshots, and an homage to a teacher who unlocked the door to a rich and necessary world. --Laila Halaby
Halaby's memoir in poems, my name on his tongue, will be published by Syracuse University Press, May 2012.