A Bookish Rainbow of Possibilities
Jhumpa Lahiri next to Flavia de Luce. Agatha Christie stacked atop Anne Lamott. E.B. White's essays, cheek by jowl with Anne of Green Gables. My bookshelves look totally different these days--since I moved to a new apartment this summer and agreed to let my sister color-code them.
I was skeptical. What type-A bookworm wouldn't be? I'd always arranged my books carefully by genre, then by author. I thought I wouldn't be able to find anything. But the new arrangement is both gorgeous and surprisingly accessible. Bonus: I'm rediscovering some titles when they catch my eye from their reshuffled positions.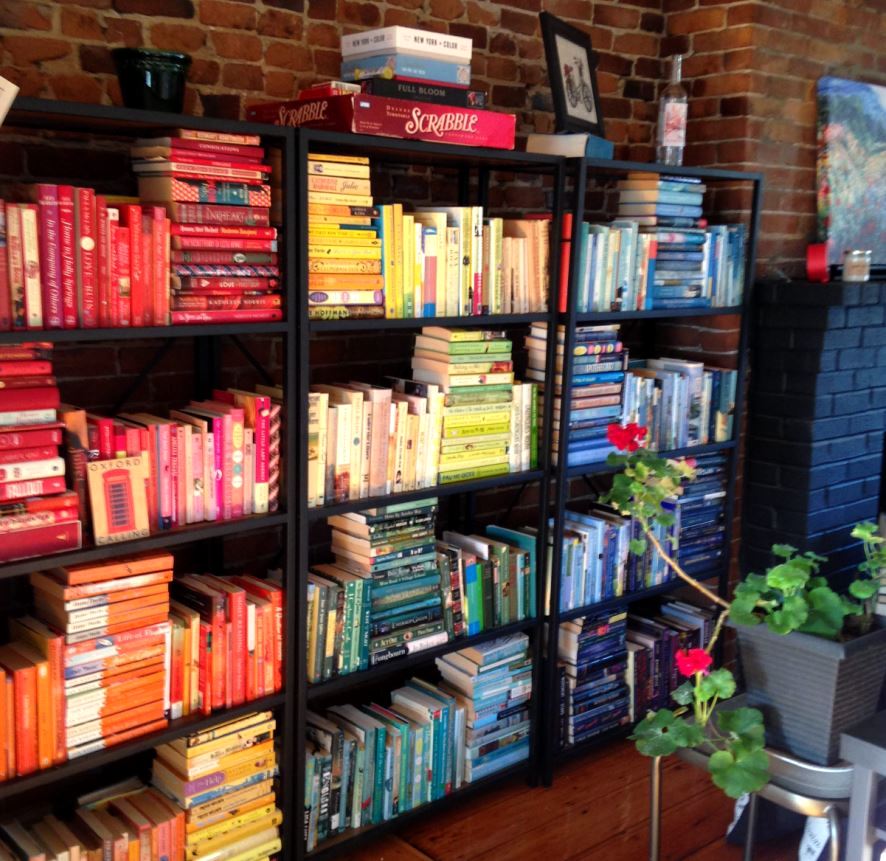 Favorites from several years ago, like Rebecca Pacheco's Do Your Om Thing (Harper Wave, $16.99) or Andi Teran's Ana of California (Penguin, $16), wink at me constantly these days. I'm rereading the Harry Potter series again, and searching for each multicolored spine (I have the British editions) is a mini-treasure hunt. And my poetry collections (heavy on the Mary Oliver) are scattered throughout, prompting me to pull them out and read a poem or two.
It's especially fun when a friend asks about a book: let me see where that is. Oh, yes, the cover is blue, but the spine might be red. Some series, like Laurie R. King's excellent Mary Russell mysteries, are scattered all over the place. A few, like my Penguin-orange Thursday Next adventures (Penguin, $17), are happily, haphazardly stacked together (with Ann Patchett's essays [Harper Perennial, $16.99] and Life of Pi [Houghton Mifflin Harcourt, $15.95]). And on the fireplace, a tower of black-spined classics (like The Count of Monte Cristo [Penguin, $16]) shares space with newer stunners, including Kate Quinn's The Huntress (HarperCollins, $16.99).
My bookshelves are still a snapshot of my reading life, but these days, the picture is a much more colorful one. I'm savoring the rainbow it creates along my walls, and the unexpected pleasure of beloved volumes, seen in a vivid new way. --Katie Noah Gibson, blogger at Cakes, Tea and Dreams